Wartburgkreis – DEG0P
EU regions: Germany > Thuringia > Thuringia > Wartburgkreis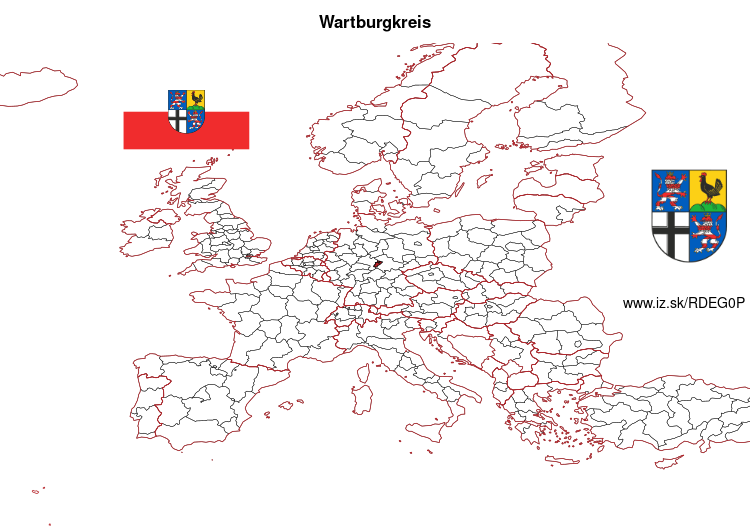 More on wikipedia wikidata Q7866 on OpenStreetMap Wartburgkreis slovensky: DEG0P
Demographics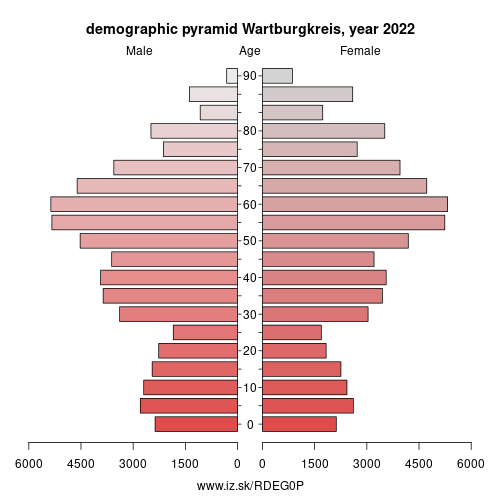 From Wikipedia: Wartburgkreis is a Kreis (district) in the south of Thuringia, Germany. Neighboring districts are (from the north clockwise) the districts Unstrut-Hainich-Kreis, Gotha, Schmalkalden-Meiningen, and the districts Fulda, Hersfeld-Rotenburg and Werra-Meißner-Kreis in Hesse. The district-free city Eisenach is nearly completely surrounded by the district.
History
The district was created in 1994 by merging the previous districts Eisenach and Bad Salzungen, and a few municipalities from the district Bad Langensalza. The city Eisenach left the district in 1998 and became a district-free city. The municipality Kaltennordheim passed from the Wartburgkreis to Schmalkalden-Meiningen on 1 January 2019.
The district is named after the Wartburg, a castle near Eisenach most famous as the place of residence of Ludwig, Landgrave of Thuringia and his wife, Saint Elizabeth of Hungary; and, as Martin Luther's refuge in 1521.
Geography
The district is located in the Thuringian Forest, including the Hainich national park. The main river in the district is the Werra.
Other: Thuringia, Gera, Jena, Eichsfeld, Nordhausen district, Schmalkalden-Meiningen, Gotha, Landkreis Hildburghausen, Ilm-Kreis, Weimarer Land, Sonneberg, Greiz, Eisenach, Suhl, Kyffhäuserkreis, Landkreis Sömmerda, Landkreis Saalfeld-Rudolstadt, Saale-Holzland-Kreis, Altenburger Land, Wartburgkreis, Erfurt, Unstrut-Hainich-Kreis, Weimar, Saale-Orla-Kreis
Neighbours: Werra-Meißner-Kreis, Hersfeld-Rotenburg, Fulda, Eisenach, Gotha, Schmalkalden-Meiningen, Unstrut-Hainich-Kreis
Suggested citation: Michal Páleník: EU regions - Wartburgkreis – DEG0P, IZ Bratislava, retrieved from: https://www.iz.sk/​en/projects/eu-regions/DEG0P
---
https://www.iz.sk/en/projects/eu-regions/DEG0P