Saale-Holzland-Kreis – DEG0J
EU regions: Germany > Thuringia > Thuringia > Saale-Holzland-Kreis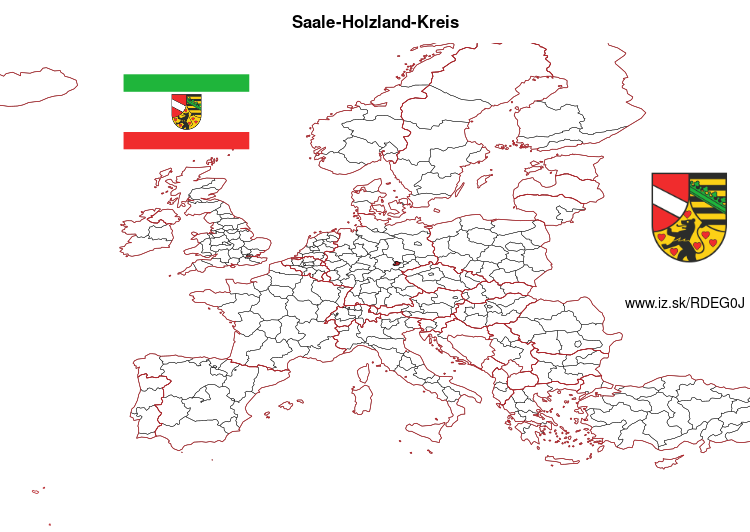 More on wikipedia wikidata Q7884 on OpenStreetMap Saale-Holzland-Kreis slovensky: DEG0J
Demographics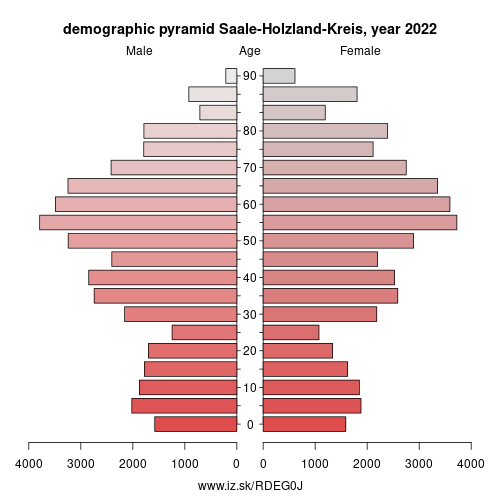 From Wikipedia: Saale-Holzland (official German name: Saale-Holzland-Kreis) is a Kreis (district) in the east of Thuringia, Germany. Neighboring districts are (from the north clockwise) the district Burgenlandkreis in Saxony-Anhalt, the district-free city Gera, the districts Greiz, Saale-Orla, Saalfeld-Rudolstadt, Weimarer Land and the district-free city Jena.
History
The district was created in 1994 by merging the previous districts Eisenberg, Jena and Stadtroda. When the district Roda (later Stadtroda) was originally created in 1922 it already covered nearly the area of the current district. In 1952 together with the abolishment of the federal states (Bundesländer) the district was split into the three parts, which were put together again in 1994.
Geography
The main river in the district is the Saale, which also gave it its name. The highest elevation with 475 m above sea level is in the south of the district, the lowest with 118 m is in the Saale valley at the boundary to the district Weimarer Land.
Other: Thuringia, Unstrut-Hainich-Kreis, Gotha, Landkreis Sömmerda, Landkreis Hildburghausen, Ilm-Kreis, Weimarer Land, Sonneberg, Landkreis Saalfeld-Rudolstadt, Eichsfeld, Nordhausen district, Kyffhäuserkreis, Greiz, Altenburger Land, Suhl, Eisenach, Jena, Schmalkalden-Meiningen, Erfurt, Saale-Holzland-Kreis, Weimar, Wartburgkreis, Gera, Saale-Orla-Kreis
Neighbours: Weimarer Land, Gera, Greiz, Landkreis Saalfeld-Rudolstadt, Saale-Orla-Kreis, Burgenlandkreis, Jena
Suggested citation: Michal Páleník: EU regions - Saale-Holzland-Kreis – DEG0J, IZ Bratislava, retrieved from: https://www.iz.sk/​en/projects/eu-regions/DEG0J
---
https://www.iz.sk/en/projects/eu-regions/DEG0J