Gera – DEG02
EU regions: Germany > Thuringia > Thuringia > Gera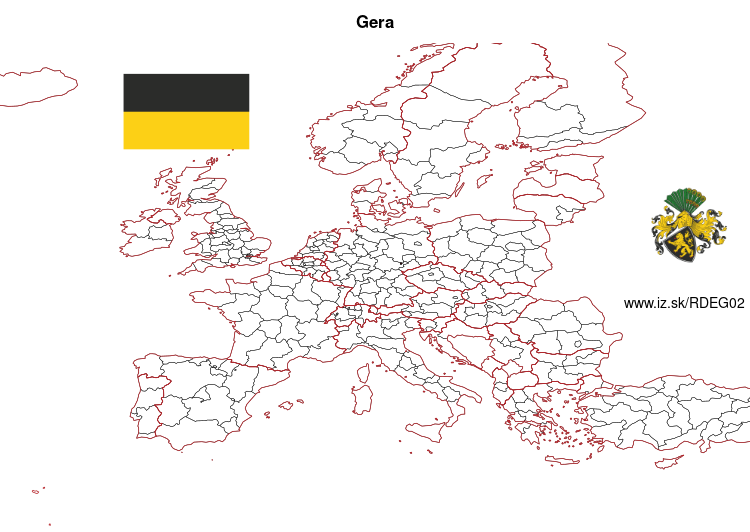 More on wikipedia wikidata Q3750 on OpenStreetMap Gera slovensky: DEG02
Demographics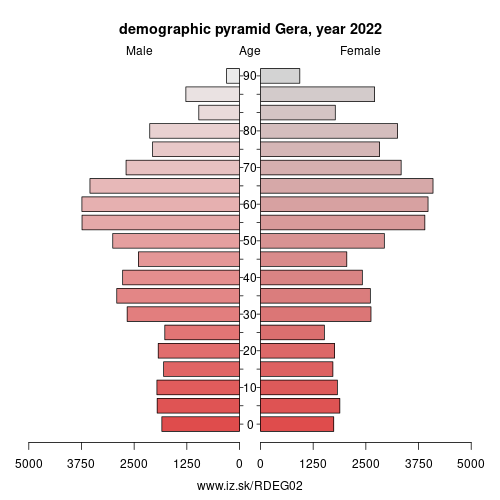 From Wikipedia: Gera is the third-largest city in Thuringia, Germany, with 96,000 inhabitants, located 55 kilometres (34 miles) south of Leipzig, 75 km (47 miles) east of Erfurt and 120 km (75 miles) west of Dresden.
Gera was first mentioned in 995 and developed to a city during the 13th century. Later, it was the residence of several lines of the Reussians until the end of monarchy in Germany in 1918. Over the 19th century, Gera became a centre of the textile industry and saw a period of rapid growth. In 1952, the city also became an administrative centre in GDR as one of the capitals of Gera administrative district (Bezirk). In 1990, Gera became part of re-established Thuringia. The loss of its administrative functions as well as its industrial core (caused both by structural change among the European textile industry and the economic system change after the German reunification) precipitated the city's slide into an enduring economic crisis.
Since 1990, many of Gera's buildings have been restored and big urban planning programmes like the Bundesgartenschau 2007 were implemented to stimulate Gera's economy. Sights include some retained buildings of the royal residence epoque and a large number of public and private buildings from the economic heyday between 1870 and 1930. The famous painter Otto Dix was born in Gera in 1891.
Other: Thuringia, Suhl, Kyffhäuserkreis, Landkreis Sömmerda, Ilm-Kreis, Weimarer Land, Sonneberg, Landkreis Saalfeld-Rudolstadt, Saale-Holzland-Kreis, Altenburger Land, Wartburgkreis, Erfurt, Gera, Jena, Eichsfeld, Eisenach, Unstrut-Hainich-Kreis, Schmalkalden-Meiningen, Landkreis Hildburghausen, Greiz, Weimar, Nordhausen district, Gotha, Saale-Orla-Kreis
Neighbours: Greiz, Saale-Holzland-Kreis, Burgenlandkreis
Suggested citation: Michal Páleník: EU regions - Gera – DEG02, IZ Bratislava, retrieved from: https://www.iz.sk/​en/projects/eu-regions/DEG02
---
https://www.iz.sk/en/projects/eu-regions/DEG02