Ilm-Kreis – DEG0F
EU regions: Germany > Thuringia > Thuringia > Ilm-Kreis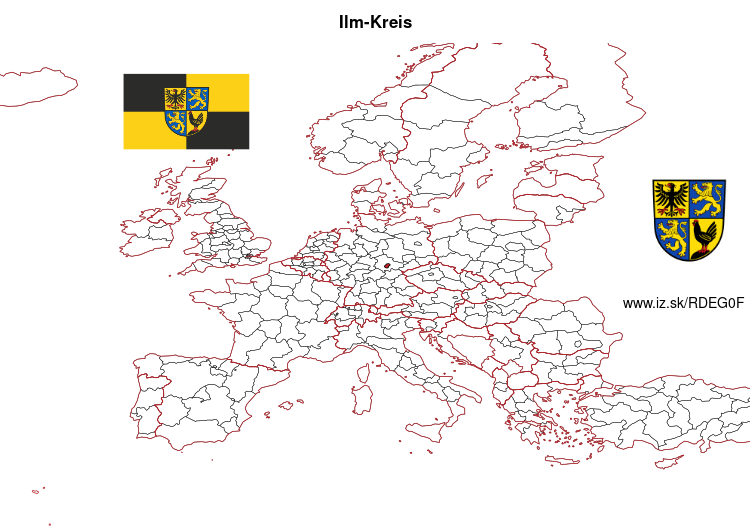 More on wikipedia wikidata Q7878 on OpenStreetMap Ilm-Kreis slovensky: DEG0F
Demographics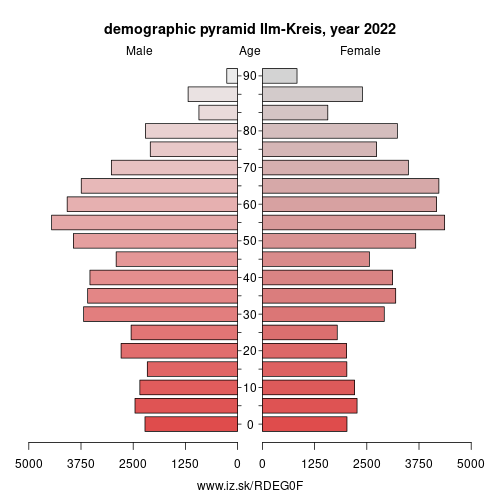 From Wikipedia: Ilm-Kreis is a district in Thuringia, Germany. It is bounded by (from the north and clockwise) the city of Erfurt, the districts of Weimarer Land, Saalfeld-Rudolstadt and Hildburghausen, the city of Suhl, and the districts of Schmalkalden-Meiningen and Gotha. It is named after the river Ilm, flowing through the district.
History
In medieval times the territory was ruled by the counts of Henneberg and the princes of Schwarzburg, two local dynasties. While Ilmenau was ruled by Henneberg, Arnstadt belonged to Schwarzburg. When the Henneberg family became extinct in 1583, Ilmenau was acquired by Saxony. In the meantime the principality of Schwarzburg began to disintegrate and was split up in several tiny states. One of those states (Schwarzburg-Arnstadt) was based in Arnstadt; it was founded in 1574 and existed until 1716, when it fell to Schwarzburg-Sondershausen. This mini state existed until 1920, when the state of Thuringia was founded.
The district was founded in 1920 (under the name Arnstadt); it was divided in 1952 into the districts of Arnstadt and Ilmenau, but reunited in 1994.
Other: Thuringia, Suhl, Landkreis Hildburghausen, Unstrut-Hainich-Kreis, Gera, Gotha, Landkreis Sömmerda, Ilm-Kreis, Weimarer Land, Sonneberg, Landkreis Saalfeld-Rudolstadt, Saale-Holzland-Kreis, Greiz, Altenburger Land, Wartburgkreis, Eisenach, Erfurt, Eichsfeld, Nordhausen district, Kyffhäuserkreis, Schmalkalden-Meiningen, Weimar, Jena, Saale-Orla-Kreis
Neighbours: Landkreis Saalfeld-Rudolstadt, Landkreis Hildburghausen, Erfurt, Suhl, Weimarer Land, Gotha, Schmalkalden-Meiningen
Suggested citation: Michal Páleník: EU regions - Ilm-Kreis – DEG0F, IZ Bratislava, retrieved from: https://www.iz.sk/​en/projects/eu-regions/DEG0F
---
https://www.iz.sk/en/projects/eu-regions/DEG0F