Kyffhäuserkreis – DEG0A
EU regions: Germany > Thuringia > Thuringia > Kyffhäuserkreis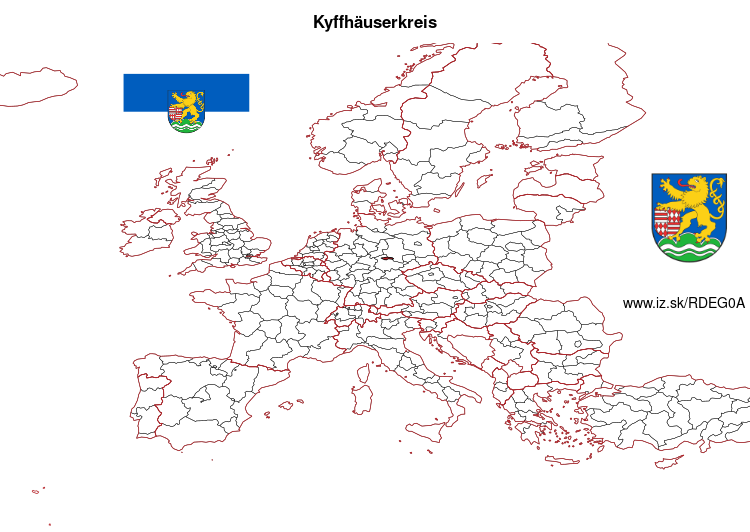 More on wikipedia wikidata Q7862 on OpenStreetMap Kyffhäuserkreis slovensky: DEG0A
Demographics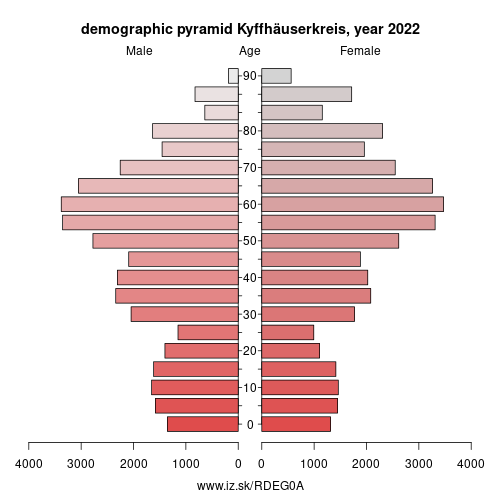 From Wikipedia: The Kyffhäuserkreis is a district in the northern part of Thuringia, Germany. Neighboring districts are the districts Mansfeld-Südharz, Saalekreis und Burgenlandkreis in Saxony-Anhalt, and the districts Sömmerda, Unstrut-Hainich-Kreis and Eichsfeld.
History
In the 12th century there was a castle on the Kyffhäuser mountains, which was built during the reign of emperor Frederick I. According to the local legend, the emperor did not die, but instead went to sleep in this castle.
From 1579 on the region belonged to Saxony, and after 1815 it was divided between the Prussian Province of Saxony and Schwarzburg-Sondershausen.
In 1952 the two districts of Artern (district) and Sondershausen were established. These districts were merged in 1994, with only a few municipalities joining other districts.
Historical Population
Values as of 31 December :
Data source since 1994: Thuringian State Statistical Bureau
Partnerships
The district has a partnership with the district Ahrweiler in Rhineland-Palatinate, which was initially established with the district Artern in 1990.
Geography
The district is named after the Kyffhäuser mountains. The main river is the Unstrut, which flows through the east of the district.
Other: Thuringia, Gera, Jena, Eichsfeld, Nordhausen district, Suhl, Kyffhäuserkreis, Landkreis Sömmerda, Ilm-Kreis, Weimarer Land, Sonneberg, Landkreis Saalfeld-Rudolstadt, Saale-Holzland-Kreis, Altenburger Land, Wartburgkreis, Erfurt, Eisenach, Unstrut-Hainich-Kreis, Schmalkalden-Meiningen, Landkreis Hildburghausen, Greiz, Weimar, Gotha, Saale-Orla-Kreis
Neighbours: Nordhausen district, Unstrut-Hainich-Kreis, Mansfeld-Südharz, Saalekreis, Eichsfeld, Burgenlandkreis, Landkreis Sömmerda
Suggested citation: Michal Páleník: EU regions - Kyffhäuserkreis – DEG0A, IZ Bratislava, retrieved from: https://www.iz.sk/​en/projects/eu-regions/DEG0A
---
https://www.iz.sk/en/projects/eu-regions/DEG0A