Schmalkalden-Meiningen – DEG0B
EU regions: Germany > Thuringia > Thuringia > Schmalkalden-Meiningen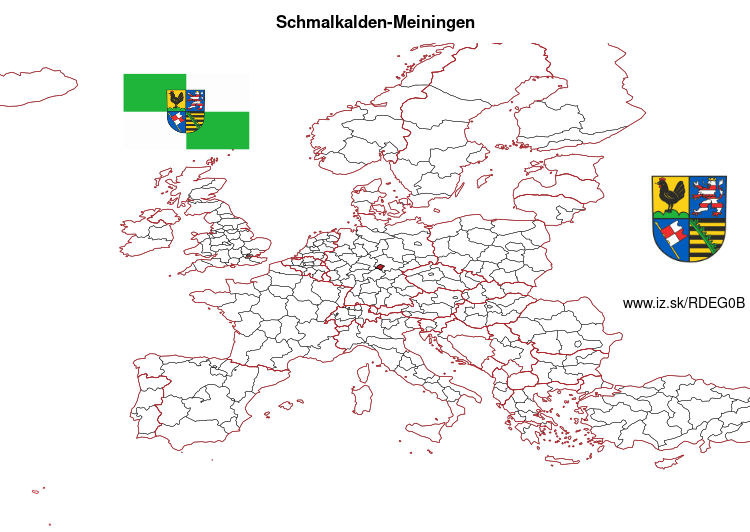 More on wikipedia wikidata Q7871 on OpenStreetMap Schmalkalden-Meiningen slovensky: DEG0B
Demographics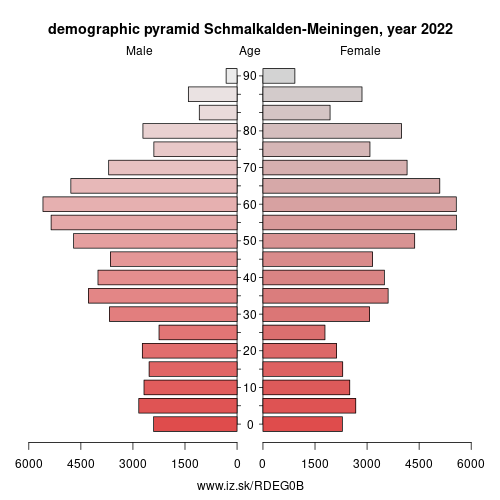 From Wikipedia: Schmalkalden-Meiningen is a Landkreis in the southwest of Thuringia, Germany. Its neighboring districts are (from the northwest clockwise) the districts Wartburgkreis, Gotha, Ilm-Kreis, the district-free city Suhl, the district Hildburghausen, the Bavarian district Rhön-Grabfeld, and the district Fulda in Hesse.
History
The district is located mainly on the territory of the former duchy of Saxe-Meiningen (part Meiningen district) and the former dominion of Schmalkalden. The district as a unit originated in 1994 with the merging of the previous districts Meiningen, Schmalkalden and (partially) Suhl-Land, which were formed during the time in the GDR. The municipality Kaltennordheim passed from the Wartburgkreis to Schmalkalden-Meiningen on 1 January 2019.
Geography
The main river in Schmalkalden-Meiningen is the Werra. The landscape of the district consists of the Rhön Mountains in the west and the Thuringian Forest Mountains in the east, separated by the valley of the river Werra. To the south lies the hilly Grabfeld. The Rennsteig hiking path crosses the Thuringian Forest and is the Border to Gotha district. The area around Oberhof is a famous winter sports resort. The capital Meiningen in the center of the district lies at an altitude of 287 meters above the sea.
Other: Thuringia, Suhl, Unstrut-Hainich-Kreis, Gera, Gotha, Landkreis Sömmerda, Landkreis Hildburghausen, Ilm-Kreis, Weimarer Land, Sonneberg, Landkreis Saalfeld-Rudolstadt, Saale-Holzland-Kreis, Greiz, Altenburger Land, Wartburgkreis, Eisenach, Erfurt, Eichsfeld, Nordhausen district, Kyffhäuserkreis, Schmalkalden-Meiningen, Weimar, Jena, Saale-Orla-Kreis
Neighbours: Ilm-Kreis, Landkreis Hildburghausen, Fulda, Suhl, Wartburgkreis, Gotha, Rhön-Grabfeld
Suggested citation: Michal Páleník: EU regions - Schmalkalden-Meiningen – DEG0B, IZ Bratislava, retrieved from: https://www.iz.sk/​en/projects/eu-regions/DEG0B
---
https://www.iz.sk/en/projects/eu-regions/DEG0B