Unstrut-Hainich-Kreis – DEG09
EU regions: Germany > Thuringia > Thuringia > Unstrut-Hainich-Kreis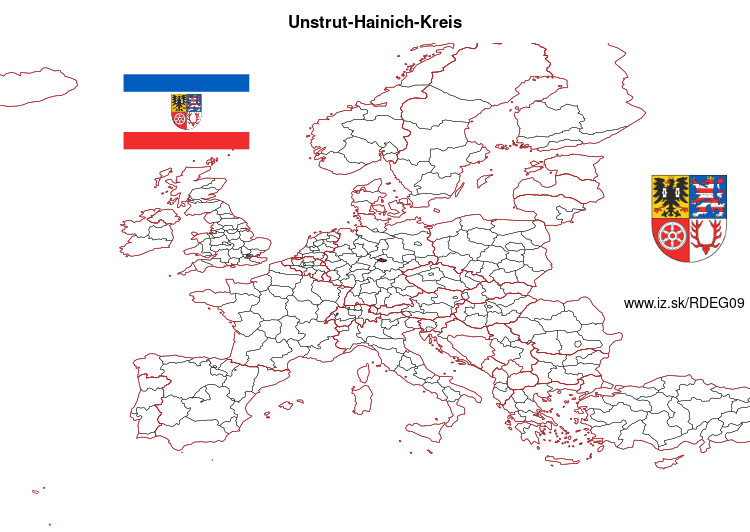 More on wikipedia wikidata Q7864 on OpenStreetMap Unstrut-Hainich-Kreis slovensky: DEG09
Demographics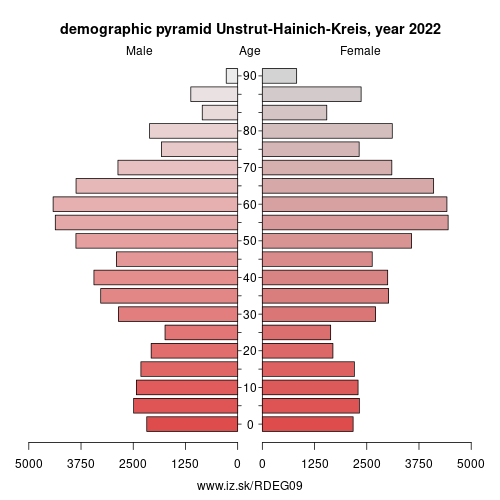 From Wikipedia: Unstrut-Hainich-Kreis is a Kreis (district) in the north of Thuringia, Germany. Neighboring districts are (from the north clockwise) the districts Eichsfeld, Kyffhäuserkreis, Sömmerda, Gotha, Wartburgkreis and the district Werra-Meißner in Hesse.
History
The district was created on July 1, 1994, by merging the two previous districts Mühlhausen and Bad Langensalza.
Partnerships
The district has a partnership with the Wetteraukreis in Hesse dating back to the German reunification of 1990. The district also has a partnership with the Lithuanian districts Ukmerge and Raseiniai.
Geography
The district is named after the river Unstrut and a hill chain, the Hainich. The Hainich became the 13th national park of Germany in 1997.
Other: Thuringia, Jena, Unstrut-Hainich-Kreis, Gotha, Landkreis Sömmerda, Landkreis Hildburghausen, Ilm-Kreis, Weimarer Land, Sonneberg, Landkreis Saalfeld-Rudolstadt, Saale-Holzland-Kreis, Greiz, Altenburger Land, Wartburgkreis, Suhl, Eisenach, Eichsfeld, Nordhausen district, Kyffhäuserkreis, Erfurt, Schmalkalden-Meiningen, Weimar, Gera, Saale-Orla-Kreis
Neighbours: Eichsfeld, Landkreis Sömmerda, Werra-Meißner-Kreis, Wartburgkreis, Gotha, Kyffhäuserkreis
Suggested citation: Michal Páleník: EU regions - Unstrut-Hainich-Kreis – DEG09, IZ Bratislava, retrieved from: https://www.iz.sk/​en/projects/eu-regions/DEG09
---
https://www.iz.sk/en/projects/eu-regions/DEG09