Saale-Orla-Kreis – DEG0K
EU regions: Germany > Thuringia > Thuringia > Saale-Orla-Kreis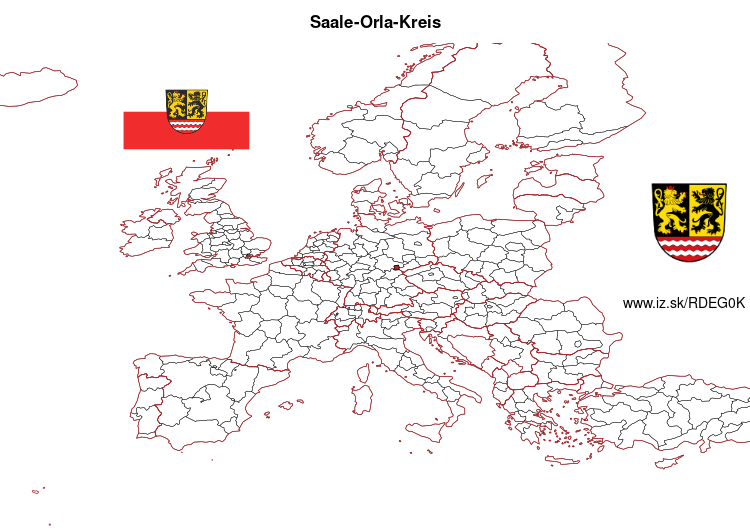 More on wikipedia wikidata Q7883 on OpenStreetMap Saale-Orla-Kreis slovensky: DEG0K
Demographics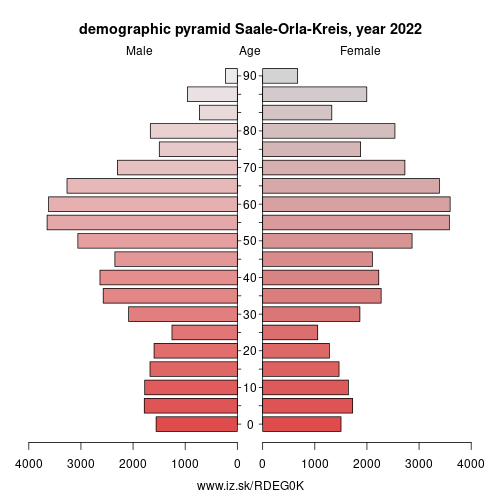 From Wikipedia: Saale-Orla is a Kreis (district) in the east of Thuringia, Germany. Neighboring districts are (from the north clockwise) the districts Saale-Holzland, Greiz, the Vogtlandkreis in Saxony, the Bavarian districts Hof and Kronach, and the district Saalfeld-Rudolstadt.
History
The district was created in 1994 by merging the previous districts Lobenstein, Pößneck and Schleiz.
Geography
The main rivers in the district are the Saale and the Orla, which also contributed to the name of the district. The highest elevation with 732.9 m above sea level is the Sieglitzberg (near Lobenstein), the lowest with 180 m is near Schimmersburg Langenorla. The district is mountainous, covering the Thüringer Schiefergebirge. The dams of the Saale create the biggest system of artificial lakes in Germany.
Other: Thuringia, Gera, Jena, Eichsfeld, Nordhausen district, Schmalkalden-Meiningen, Gotha, Landkreis Hildburghausen, Ilm-Kreis, Weimarer Land, Sonneberg, Suhl, Kyffhäuserkreis, Landkreis Sömmerda, Landkreis Saalfeld-Rudolstadt, Saale-Holzland-Kreis, Altenburger Land, Wartburgkreis, Erfurt, Eisenach, Unstrut-Hainich-Kreis, Greiz, Weimar, Saale-Orla-Kreis
Neighbours: Greiz, Landkreis Saalfeld-Rudolstadt, Kronach, Saale-Holzland-Kreis, Vogtlandkreis, Hof
Suggested citation: Michal Páleník: EU regions - Saale-Orla-Kreis – DEG0K, IZ Bratislava, retrieved from: https://www.iz.sk/​en/projects/eu-regions/DEG0K
---
https://www.iz.sk/en/projects/eu-regions/DEG0K