Suhl – DEG04
EU regions: Germany > Thuringia > Thuringia > Suhl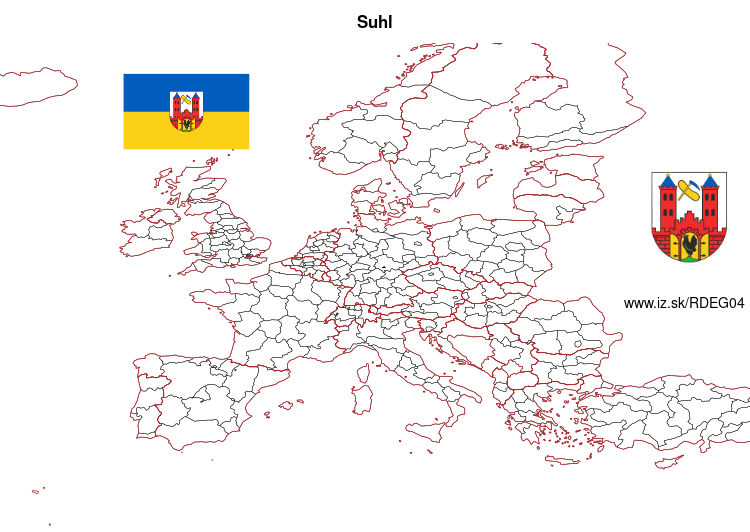 More on wikipedia wikidata Q14891 on OpenStreetMap Suhl slovensky: DEG04
Demographics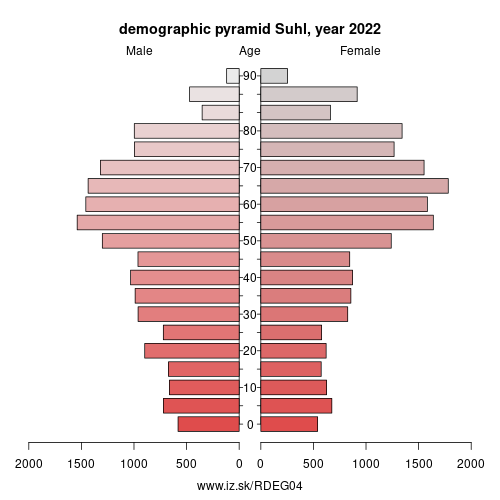 From Wikipedia: Suhl is a city in Thuringia, Germany, located 50 kilometres (31 miles) SW of Erfurt, 110 kilometres (68 miles) NE of Würzburg and 130 kilometres (81 miles) N of Nuremberg. With its 37,000 inhabitants, it is the smallest of the six urban districts within Thuringia. Together with its northern neighbour-town Zella-Mehlis, Suhl forms the largest urban area in the Thuringian Forest with a population of 46,000. The region around Suhl is marked by up to 1,000-meter high mountains, including Thuringia's highest peak, the Großer Beerberg (983 m), approximately 5 kilometres (3 miles) NE of the city centre.
Suhl was first mentioned in 1318 and stayed a small mining and metalworking town, until industrialization broke through in late 19th century and Suhl became a centre of Germany's arms production, specialized on rifles and guns with companies such as Sauer & Sohn. Furthermore, the engineering industry was based in Suhl with Simson, a famous car and moped producer. In 1952, Suhl became one of East Germany's 14 district capitals, which led to a government-directed period of urban growth and conversion. Its results – a typical 1960s concrete architecture-marked city centre – are defining to the present. With the loss of its administrative and industrial functions, Suhl saw a lasting period of urban decline starting in 1990.
Suhl is known for its sportsmen, especially in shooting, winter sports, and volleyball.
Other: Thuringia, Gera, Jena, Suhl, Kyffhäuserkreis, Landkreis Sömmerda, Ilm-Kreis, Weimarer Land, Sonneberg, Landkreis Saalfeld-Rudolstadt, Saale-Holzland-Kreis, Altenburger Land, Wartburgkreis, Erfurt, Eichsfeld, Eisenach, Unstrut-Hainich-Kreis, Schmalkalden-Meiningen, Landkreis Hildburghausen, Greiz, Weimar, Nordhausen district, Gotha, Saale-Orla-Kreis
Neighbours: Ilm-Kreis, Landkreis Hildburghausen, Schmalkalden-Meiningen
Suggested citation: Michal Páleník: EU regions - Suhl – DEG04, IZ Bratislava, retrieved from: https://www.iz.sk/​en/projects/eu-regions/DEG04
---
https://www.iz.sk/en/projects/eu-regions/DEG04