Bottrop – DEA31
EU regions: Germany > North Rhine-Westphalia > Münster Government Region > Bottrop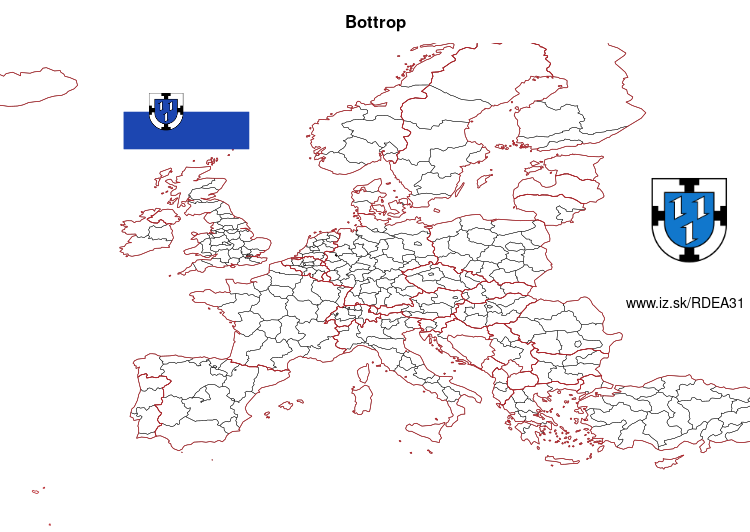 More on wikipedia wikidata Q3069 on OpenStreetMap Bottrop slovensky: DEA31
Demographics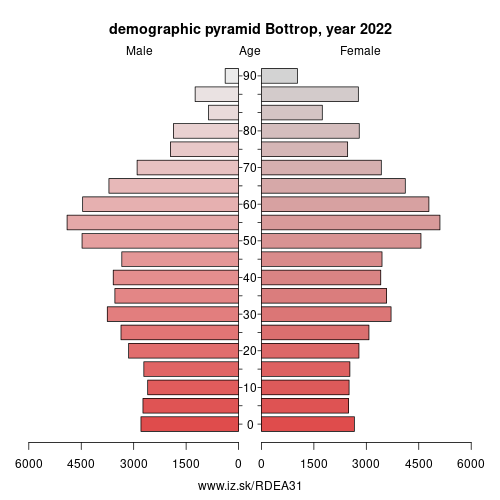 From Wikipedia: Bottrop (German pronunciation: [ˈbɔtʁɔp] (listen)) is a city in west central Germany, on the Rhine-Herne Canal, in North Rhine-Westphalia. Located in the Ruhr industrial area, Bottrop adjoins Essen, Oberhausen, Gladbeck and Dorsten. The city had been a coal-mining and rail center and contains factories producing coal-tar derivatives, chemicals, textiles, and machinery. Bottrop grew as a mining center beginning in the 1860s, was chartered as a city in 1921, and bombed during the Oil Campaign of World War II. In 1975 it unified with the neighbour communities of Gladbeck and Kirchhellen, but Gladbeck left it in 1976, leading to Kirchhellen becoming a district of Bottrop as Bottrop-Kirchhellen. It is also twinned with Blackpool, England.
Boroughs
The total area of the municipal territory is about 101 square kilometres (39 square miles). The longest north-south distance is 17 kilometres (11 miles), and from west to east 9 kilometres (5.6 miles). The highest peak within the city's territory is 78 metres (256 feet), the lowest one being 26 metres (85 feet) above sea level.
Bottrop is divided into 3 boroughs, they are: Bottrop-Mitte (Bottrop-Center), Bottrop-Süd (Bottrop South) and Bottrop-Kirchhellen, each one having a borough representation and a borough ruler.
These boroughs are further subdivided into city parts, partly named after their traditional name, while the newly built parts are only recently named :
Bottrop-Mitte: Eigen, Fuhlenbrock, Stadtmitte
Bottrop-Süd: Batenbrock, Boy, Ebel, Lehmkuhle, Vonderort, Gartenstadt Welheim (Garden city Welheim) and Welheimer Mark
Bottrop-Kirchhellen: Ekel, Feldhausen, Grafenwald, Hardinghausen, Holthausen, Im Loh, Kirchhellen, Kuhberg, Overhagen
For statistical reasons, Bottrop is also divided into
statistical
boroughs.
Other: Münster Government Region, Warendorf District, Bottrop, Gelsenkirchen, Münster, Borken, Coesfeld, Steinfurt, Recklinghausen
Neighbours: Essen, Oberhausen, Recklinghausen, Wesel
Suggested citation: Michal Páleník: EU regions - Bottrop – DEA31, IZ Bratislava, retrieved from: https://www.iz.sk/​en/projects/eu-regions/DEA31
---
https://www.iz.sk/en/projects/eu-regions/DEA31