Dortmund - DEA52
EU regions: Germany > North Rhine-Westphalia > Arnsberg Government Region > Dortmund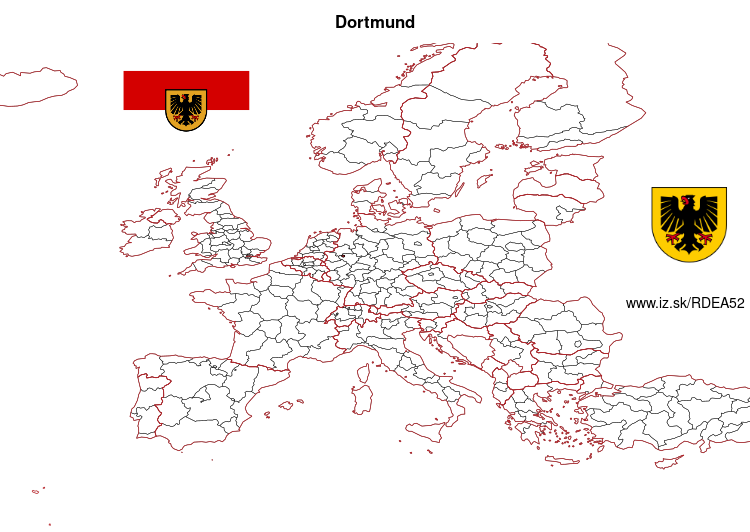 more on wikipedia * more on wikidata Q1295 * on OpenStreetMap * Dortmund slovensky: DEA52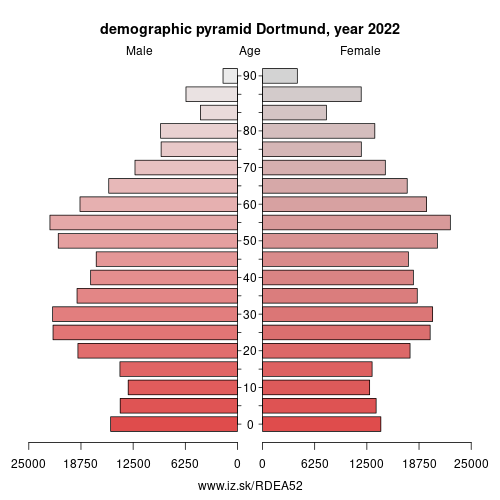 From wikipedia:
Dortmund
(, also
UK:
,
US:
, German:
[ˈdɔʁtmʊnt]
(

listen

)
; Low German:
Düörpm
[ˈdyːœɐ̯pm̩]
; Latin:
Tremonia
) is, with a population of 586,600 (2017), the third-largest city of Germany's most populous federal state of North Rhine-Westphalia after Cologne and Düsseldorf, and Germany's eighth-largest city. It is the largest city (by area and population) of the Ruhr, Germany's largest urban area with some 5.1 million (2011) inhabitants, as well as the largest city of Westphalia. On the Emscher and Ruhr rivers (tributaries of the Rhine), it lies in the Rhine-Ruhr Metropolitan Region and is considered the administrative, commercial, and cultural centre of the eastern Ruhr.
Founded around 882, Dortmund became an Imperial Free City. Throughout the 13th to 14th centuries, it was the "chief city" of the Rhine, Westphalia, the Netherlands Circle of the Hanseatic League.
During the Thirty Years' War, the city was destroyed and decreased in significance until the onset of industrialization. The city then became one of Germany's most important coal, steel and beer centres. Dortmund consequently was one of the most heavily bombed cities in Germany during World War II. The devastating bombing raids of 12 March 1945 destroyed 98 % of buildings in the inner city center. These bombing raids, with more than 1,110 aircraft, hold the record to a single target in World War II.
The region has adapted since the collapse of its century-long steel and coal industries and shifted to high-technology biomedical technology, micro systems technology, and also services. In 2009, Dortmund was classified as a Node city in the Innovation Cities Index published by 2thinknow and is the most sustainable and digital city in Germany.
Dortmund is home to many cultural and educational institutions, including the Technical University of Dortmund and Dortmund University of Applied Sciences and Arts, International School of Management and other educational, cultural and administrative facilities with over 49,000 students, many museums, such as Museum Ostwall, Museum of Art and Cultural History, German Football Museum, as well as theatres and music venues like the Konzerthaus or the Opera House of Dortmund.
other: Arnsberg Government Region, Ennepe-Ruhr-Kreis, Dortmund, Märkischer Kreis, Herne, Kreis Olpe, Hagen, Soest, Hamm, Bochum, Unna, Siegen-Wittgenstein, Hochsauerlandkreis
neighbours: Bochum, Hagen, Ennepe-Ruhr-Kreis, Recklinghausen, Unna
Suggested citation: Michal Páleník: EU regions - Dortmund - DEA52, IZ Bratislava, retrieved from: https://www.iz.sk/en/projects/eu-regions/DEA52
---
https://www.iz.sk/en/projects/eu-regions/DEA52