Bochum – DEA51
EU regions: Germany > North Rhine-Westphalia > Arnsberg Government Region > Bochum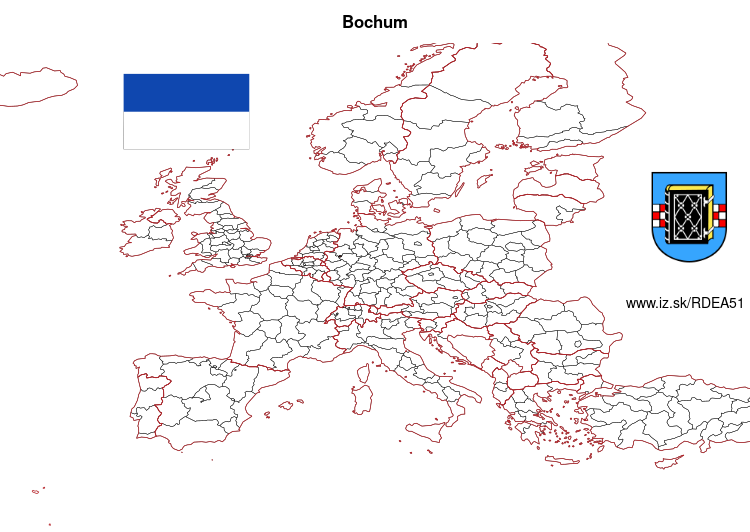 More on wikipedia wikidata Q2103 on OpenStreetMap Bochum slovensky: DEA51
Demographics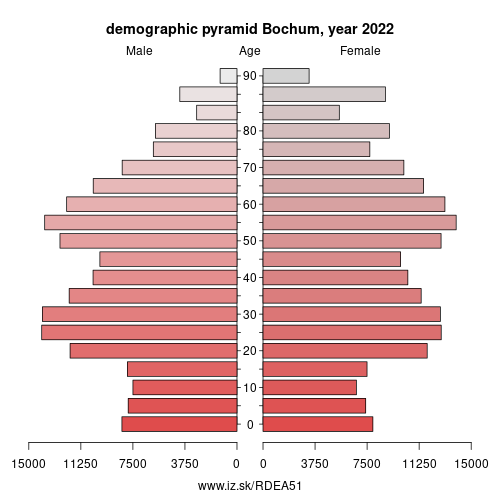 From Wikipedia: Bochum ( BOH-khuum, also US: BOH-kəm, German: [ˈboːxʊm] (listen); Westphalian: Baukem) is the sixth largest city of the most populous German federal state of North Rhine-Westphalia after Cologne, Düsseldorf, Dortmund, Essen and Duisburg, and its 364,920 (2016) inhabitants make it the 16th largest city of Germany. On the Ruhr Heights (Ruhrhöhen) hill chain, between the rivers Ruhr to the south and Emscher to the north (tributaries of the Rhine), it is the second largest city of Westphalia after Dortmund, and the fourth largest city of the Ruhr after Dortmund, Essen and Duisburg. It lies at the centre of the Ruhr, Germany's largest urban area, in the Rhine-Ruhr Metropolitan Region, and belongs to the region of Arnsberg. It is surrounded by the cities of (in clockwise direction) Herne, Castrop-Rauxel, Dortmund, Witten, Hattingen, Essen and Gelsenkirchen. Bochum is the sixth largest and one of the southernmost cities in the Low German dialect area. There are nine institutions of higher education in the city, most notably the Ruhr University Bochum (Ruhr-Universität Bochum), one of the ten largest universities in Germany, and the Bochum University of Applied Sciences (Hochschule Bochum).
Geography
Geographical position
The city lies on the low rolling hills of Bochum land ridge (Bochumer Landrücken), part of the Ruhrhöhen (highest elevations) between the Ruhr and Emscher rivers at the border of the southern and northern Ruhr coal region. The highest point of the city is at Kemnader Straße (Kemnader Street) in Stiepel at 196 metres (643 ft) above sea level; the lowest point is 43 metres (141 ft) at the Blumenkamp in Hordel.
The terrain of Bochum is characterised by rolling hills that rarely have more than three per cent graduation. Steeper graduation can be found at the Harpener Hellweg near the Berghofer Holz nature reserve (3.4 %), at Westenfelder Straße in the borough of Wattenscheid (3.47 %), or at Kemnader Straße, which begins at the banks of the Ruhr in Stiepel (71 m, 233 ft), and rises to its highest point in the centre of Stiepel (196 m, 643 ft, a 5.1 % increase).
Other: Arnsberg Government Region, Hamm, Ennepe-Ruhr-Kreis, Bochum, Hochsauerlandkreis, Siegen-Wittgenstein, Soest, Hagen, Herne, Unna, Kreis Olpe, Märkischer Kreis, Dortmund
Neighbours: Herne, Essen, Ennepe-Ruhr-Kreis, Dortmund, Recklinghausen, Gelsenkirchen
Suggested citation: Michal Páleník: EU regions - Bochum – DEA51, IZ Bratislava, retrieved from: https://www.iz.sk/​en/projects/eu-regions/DEA51
---
https://www.iz.sk/en/projects/eu-regions/DEA51