Siegen-Wittgenstein – DEA5A
EU regions: Germany > North Rhine-Westphalia > Arnsberg Government Region > Siegen-Wittgenstein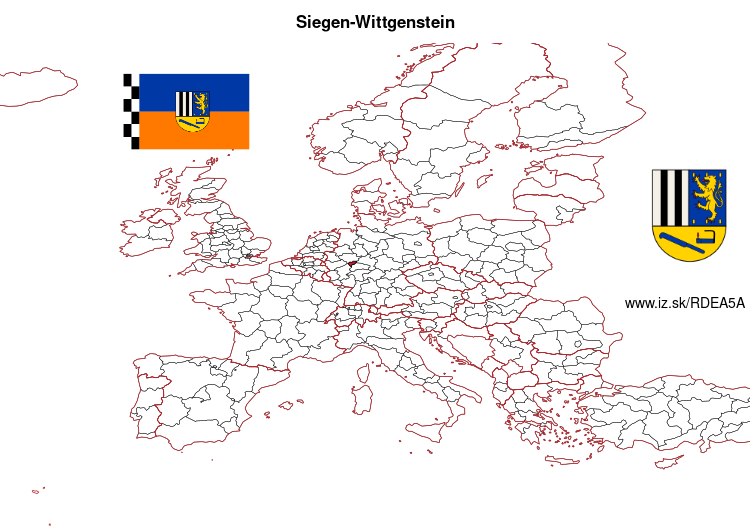 More on wikipedia wikidata Q5982 on OpenStreetMap Siegen-Wittgenstein slovensky: DEA5A
Demographics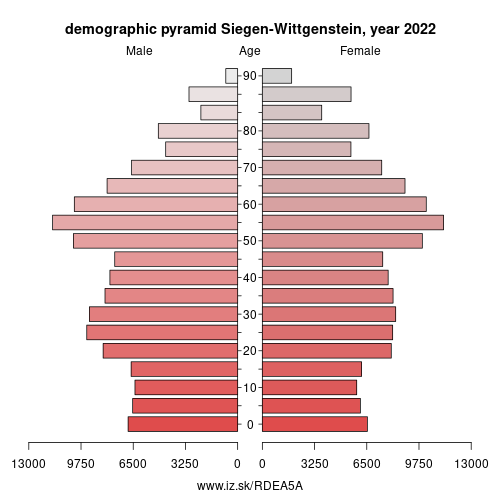 From Wikipedia: Siegen-Wittgenstein is a Kreis (district) in the southeast of North Rhine-Westphalia, Germany. Neighboring districts are Olpe, Hochsauerlandkreis, Waldeck-Frankenberg, Marburg-Biedenkopf, Lahn-Dill, Westerwaldkreis, and Altenkirchen.
History
In 1816–1817, the two districts of Siegen and Wittgenstein were created as parts of the Prussian province of Westphalia. In 1974, the two districts were merged, and in 1984 the name Siegen-Wittgenstein was adopted.
Geography
Geographically, it covers the hills southeast of the Sauerland hills, the Siegerland and Wittgensteiner Land.
Coat of arms
The two upper sections show, to the right, the arms of the Dukes of Nassau, who founded Siegen, and to the left, those of the Counts of Sayn-Wittgenstein. At the bottom a miner's lamp and a coppicing hook are depicted, in reference to the mining and charcoal-burning history of the district.
Other: Arnsberg Government Region, Hamm, Herne, Ennepe-Ruhr-Kreis, Märkischer Kreis, Kreis Olpe, Hochsauerlandkreis, Soest, Unna, Dortmund, Bochum, Hagen, Siegen-Wittgenstein
Neighbours: Altenkirchen district, Kreis Olpe, Westerwaldkreis, Marburg-Biedenkopf, Waldeck-Frankenberg, Lahn-Dill-Kreis, Hochsauerlandkreis
Suggested citation: Michal Páleník: EU regions - Siegen-Wittgenstein – DEA5A, IZ Bratislava, retrieved from: https://www.iz.sk/​en/projects/eu-regions/DEA5A
---
https://www.iz.sk/en/projects/eu-regions/DEA5A