Westerwaldkreis – DEB1B
EU regions: Germany > Rhineland-Palatinate > Koblenz Government Region > Westerwaldkreis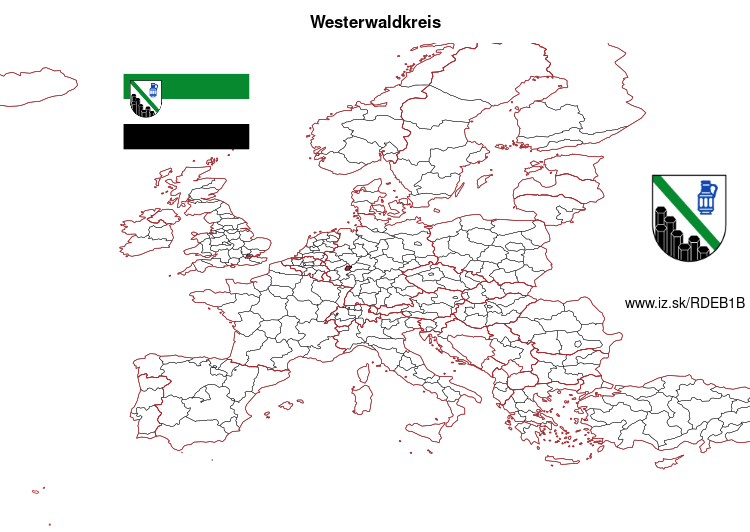 More on wikipedia wikidata Q8602 on OpenStreetMap Westerwaldkreis slovensky: DEB1B
Demographics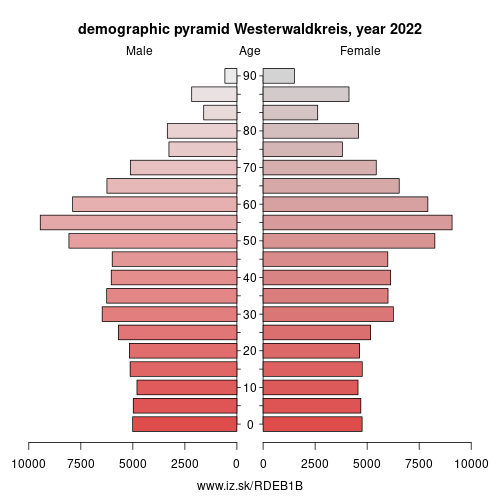 From Wikipedia: The Westerwaldkreis ("District of Westerwald") is a district (Kreis) in the north-east of Rhineland-Palatinate, Germany. Neighbouring districts are (from north clockwise) Altenkirchen, Lahn-Dill, Limburg-Weilburg, Rhein-Lahn, the district-free city Koblenz, Mayen-Koblenz and Neuwied.
History
When the area became part of Prussia in 1866 two districts covering the area were created. The northern part was covered by the Oberwesterwaldkreis with capital in Marienberg, the Unterwesterwaldkreis with capital in Montabaur covering the southern part. 1886 a third district was added with the Westerburg district with area from both of the other two districts. In 1932 the districts structure was reformed again, the Oberwesterwaldkreis and the Westerburg district were merged to a new Oberwesterwaldkreis with capital in Westerburg. In 1974 in another reform the districts Oberwesterwaldkreis and Unterwesterwaldkreis were merged to form the Westerwaldkreis.
Together with the neighboring Rhein-Lahn district a partnership with the English county Northamptonshire was started in 1981. As part of the partnership of Rhineland-Palatinate with Rwanda the district had a partnership with the municipality Mugesera since 1983. As in 2001 this municipality was included in the district Mirenge the partner changed.
Other: Koblenz Government Region, Altenkirchen district, Bad Kreuznach, Birkenfeld, Mayen-Koblenz, Neuwied, Cochem-Zell, Rhein-Hunsrück-Kreis, Rhein-Lahn-Kreis, Ahrweiler, Koblenz, Westerwaldkreis
Neighbours: Altenkirchen district, Koblenz, Limburg-Weilburg, Rhein-Lahn-Kreis, Siegen-Wittgenstein, Mayen-Koblenz, Neuwied, Lahn-Dill-Kreis
Suggested citation: Michal Páleník: EU regions - Westerwaldkreis – DEB1B, IZ Bratislava, retrieved from: https://www.iz.sk/​en/projects/eu-regions/DEB1B
---
https://www.iz.sk/en/projects/eu-regions/DEB1B