Rhein-Lahn-Kreis – DEB1A
EU regions: Germany > Rhineland-Palatinate > Koblenz Government Region > Rhein-Lahn-Kreis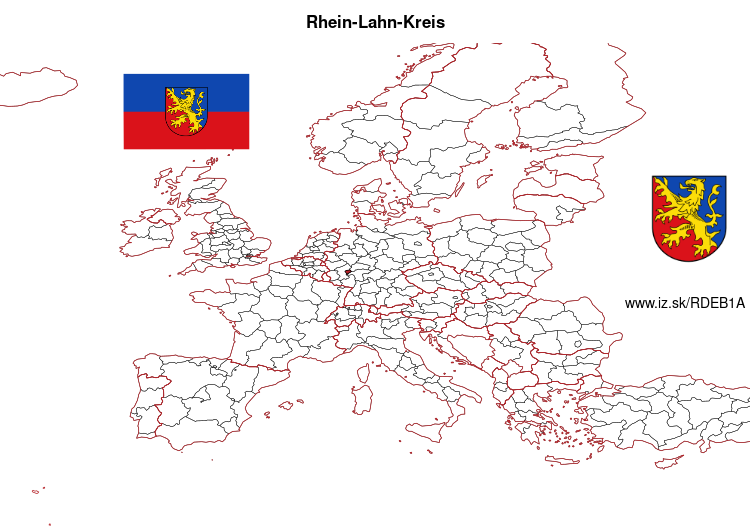 More on wikipedia wikidata Q8601 on OpenStreetMap Rhein-Lahn-Kreis slovensky: DEB1A
Demographics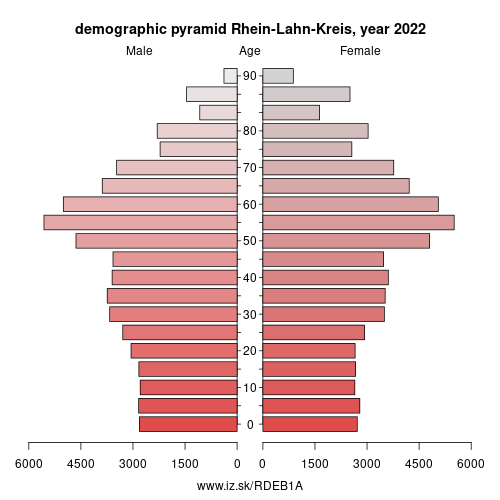 From Wikipedia: Rhein-Lahn-Kreis is a district (Kreis) in the east of Rhineland-Palatinate, Germany. Neighboring districts are (from north clockwise) Westerwaldkreis, Limburg-Weilburg, Rheingau-Taunus, Mainz-Bingen, Rhein-Hunsrück, Mayen-Koblenz, and the district-free city Koblenz.
History
With the Congress of Vienna the area was added to the duchy of Nassau. When Nassau lost independence in 1866 it was added to Prussia, who then in 1867 created the Regierungsbezirk Wiesbaden, and as parts of it the two districts Rheingaukreis and Unterlahnkreis. The Rheingaukreis became the district St. Goarshausen in 1885. In 1969 the two districts were merged into the new Rhein-Lahn district.
Geography
The name of the district already mentions the two biggest rivers of the district. The Rhine forms the boundary to the west, its narrow valley is used for wine cultivation. The Lahn flows through the northern part of the district until it joins the Rhine near Lahnstein.
Other: Koblenz Government Region, Altenkirchen district, Neuwied, Cochem-Zell, Koblenz, Ahrweiler, Bad Kreuznach, Birkenfeld, Mayen-Koblenz, Rhein-Lahn-Kreis, Rhein-Hunsrück-Kreis, Westerwaldkreis
Neighbours: Rheingau-Taunus-Kreis, Mayen-Koblenz, Mainz-Bingen, Koblenz, Westerwaldkreis, Limburg-Weilburg, Rhein-Hunsrück-Kreis
Suggested citation: Michal Páleník: EU regions - Rhein-Lahn-Kreis – DEB1A, IZ Bratislava, retrieved from: https://www.iz.sk/​en/projects/eu-regions/DEB1A
---
https://www.iz.sk/en/projects/eu-regions/DEB1A