Rheingau-Taunus-Kreis – DE71D
EU regions: Germany > Hesse > Darmstadt Government Region > Rheingau-Taunus-Kreis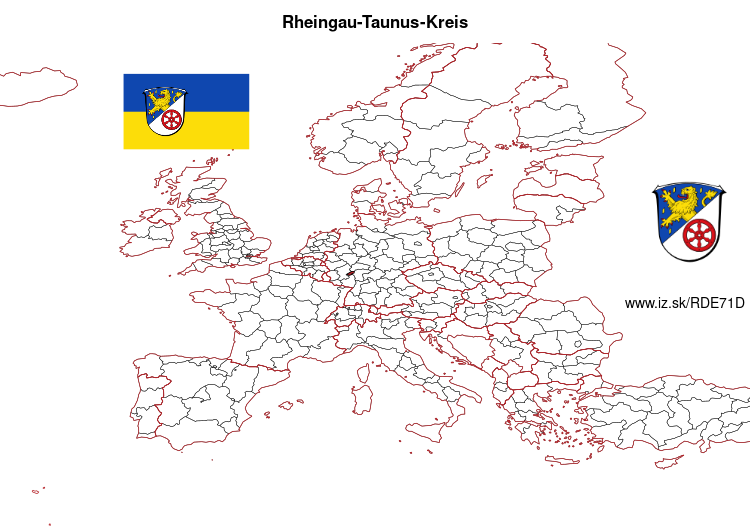 More on wikipedia wikidata Q7907 on OpenStreetMap Rheingau-Taunus-Kreis slovensky: DE71D
Demographics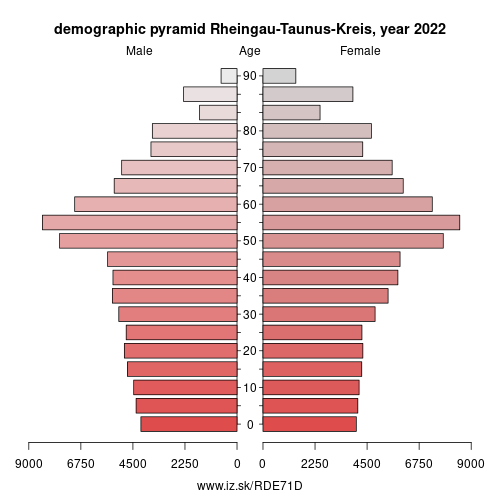 From Wikipedia: Rheingau-Taunus is a Kreis (district) in the west of Hesse, Germany. Neighboring districts are Limburg-Weilburg, Hochtaunuskreis, Main-Taunus-Kreis, district-free Wiesbaden, Mainz-Bingen, Rhein-Lahn.
History
The district was created in 1977 by merging the Rheingau and Untertaunus districts.
Geography
The district covers the western part of the Taunus mountains. The river Rhine forms the district's border in the south.
Politics
District council
Recent district elections had the following results:
Coat of arms
The coat of arms combines the coat of arms of the two former districts – in the bottom right the Mainz wheel taken from the Rheingau district, in the top left the lion of Nassau from the former Untertaunuskreis.
Other: Darmstadt Government Region, Wiesbaden, Landkreis Bergstraße, Main-Taunus-Kreis, Darmstadt-Dieburg, Groß-Gerau, Main-Kinzig-Kreis, Rheingau-Taunus-Kreis, Odenwald, Offenbach am Main, Darmstadt, Wetteraukreis, Hochtaunuskreis, Frankfurt, Offenbach
Neighbours: Mainz-Bingen, Limburg-Weilburg, Wiesbaden, Rhein-Lahn-Kreis, Hochtaunuskreis, Main-Taunus-Kreis
Suggested citation: Michal Páleník: EU regions - Rheingau-Taunus-Kreis – DE71D, IZ Bratislava, retrieved from: https://www.iz.sk/​en/projects/eu-regions/DE71D
---
https://www.iz.sk/en/projects/eu-regions/DE71D