Main-Kinzig-Kreis – DE719
EU regions: Germany > Hesse > Darmstadt Government Region > Main-Kinzig-Kreis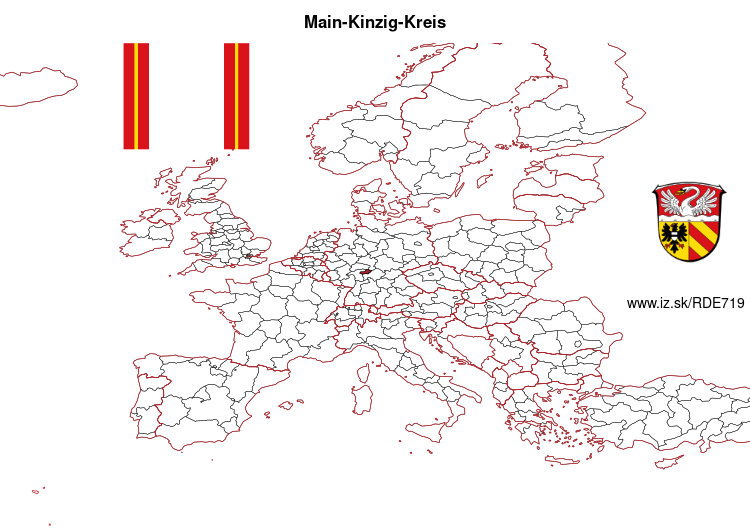 More on wikipedia wikidata Q7911 on OpenStreetMap Main-Kinzig-Kreis slovensky: DE719
Demographics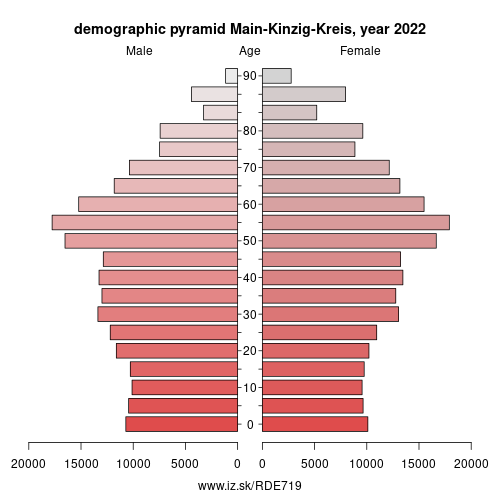 From Wikipedia: Main-Kinzig-Kreis is a Kreis (district) in the east of Hesse, Germany. Neighboring districts are Wetteraukreis, Vogelsbergkreis, Fulda, Bad Kissingen, Main-Spessart, Aschaffenburg, Offenbach and the district-free cities of Offenbach and Frankfurt.
History
The district was created in 1974 by merging the former districts of Hanau, Schlüchtern, Gelnhausen and the former urban district of Hanau. It is basically the former territory of the county of Hesse-Hanau.
Geography
The district is named after the two primary rivers: the Main flows along the south-west corner of the district. The Kinzig, a tributary of the Main, flows through the district.
According to the Institut Géographique National from 1 January 2007 until July 2013 the geographic centre of the European Union was located on a wheat field outside of Gelnhausen.
Economy
In 2015 (latest data available) the GDP per inhabitant was €31,433. This places the district 16th out of 26 districts (rural and urban) in Hesse (overall average: €42,732).
Towns and municipalities
Coat of arms
Partnerships
The oldest partnership was inherited from the previous district Hanau, and was formed in 1972 with the Croatian municipality of Kutina – however it took till the 20th anniversary in 1992 that this partnership was officially signed. In 1986 the district parliament decided to start a developing project with the Diriamba region in Nicaragua.
Other: Darmstadt Government Region, Frankfurt, Darmstadt-Dieburg, Hochtaunuskreis, Offenbach, Groß-Gerau, Main-Taunus-Kreis, Rheingau-Taunus-Kreis, Wetteraukreis, Wiesbaden, Main-Kinzig-Kreis, Landkreis Bergstraße, Offenbach am Main, Darmstadt, Odenwald
Neighbours: Offenbach am Main, Vogelsbergkreis, Offenbach, Fulda, Bad Kissingen, Frankfurt, Main-Spessart, Aschaffenburg, Wetteraukreis
Suggested citation: Michal Páleník: EU regions - Main-Kinzig-Kreis – DE719, IZ Bratislava, retrieved from: https://www.iz.sk/​en/projects/eu-regions/DE719
---
https://www.iz.sk/en/projects/eu-regions/DE719