Frankfurt – DE712
EU regions: Germany > Hesse > Darmstadt Government Region > Frankfurt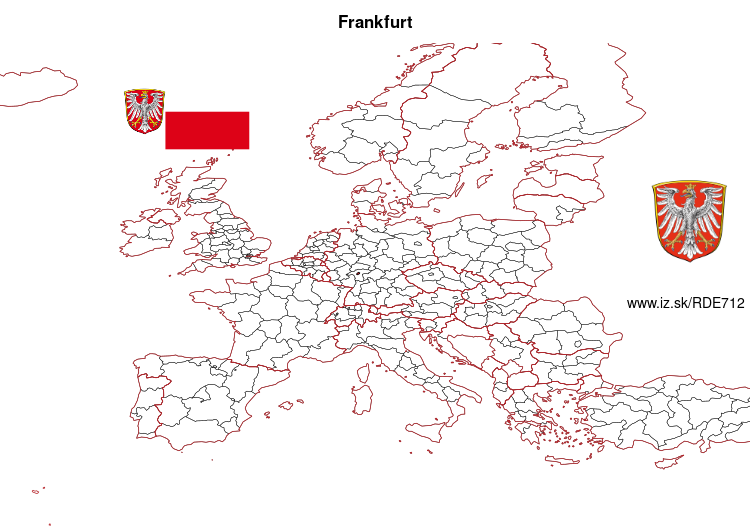 More on wikipedia wikidata Q1794 on OpenStreetMap Frankfurt slovensky: DE712
Demographics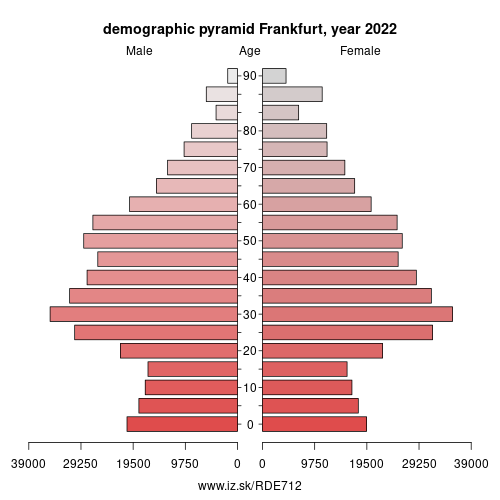 Frankfurt
(officially:
Frankfurt am Main
(German:
[ˈfʁaŋkfʊɐ̯t ʔam ˈmaɪn]
(

listen

)
; lit. "Frank ford at the Main")) is a metropolis and the largest city of the German federal state of Hesse, and its 746,878 (2017) inhabitants make it the fifth-largest city of Germany after Berlin, Hamburg, Munich, and Cologne. On the River Main (a tributary of the Rhine), it forms a continuous conurbation with the neighbouring city of Offenbach am Main, and its urban area has a population of 2.3 million. The city is at the centre of the larger Rhine-Main Metropolitan Region, which has a population of 5.5 million and is Germany's second-largest metropolitan region after the Rhine-Ruhr Region. Since the enlargement of the European Union in 2013, the geographic centre of the EU is about 40 km (25 mi) to the east of Frankfurt's central business district. Like France and Franconia, the city is named after the Franks. Frankfurt is the largest city in the Rhine Franconian dialect area (Franconian languages).
Frankfurt was a city state, the Free City of Frankfurt, for nearly five centuries, and was one of the most important cities of the Holy Roman Empire, as a site of imperial coronations; it lost its sovereignty upon the collapse of the empire in 1806 and then permanently in 1866, when it was annexed by the Kingdom of Prussia. It has been part of the federal state of Hesse since 1945. Frankfurt is culturally, ethnically, racially, and religiously diverse, with half of its population, and a majority of young people, having a migration background. A quarter of the population consists of foreign nationals, including many expatriates.
Other: Darmstadt Government Region, Groß-Gerau, Main-Kinzig-Kreis, Main-Taunus-Kreis, Rheingau-Taunus-Kreis, Odenwald, Offenbach am Main, Darmstadt, Frankfurt, Wiesbaden, Darmstadt-Dieburg, Wetteraukreis, Hochtaunuskreis, Offenbach, Landkreis Bergstraße
Neighbours: Offenbach, Groß-Gerau, Wetteraukreis, Main-Kinzig-Kreis, Hochtaunuskreis, Main-Taunus-Kreis, Offenbach am Main
Suggested citation: Michal Páleník: EU regions - Frankfurt – DE712, IZ Bratislava, retrieved from: https://www.iz.sk/​en/projects/eu-regions/DE712
---
https://www.iz.sk/en/projects/eu-regions/DE712