Wiesbaden – DE714
EU regions: Germany > Hesse > Darmstadt Government Region > Wiesbaden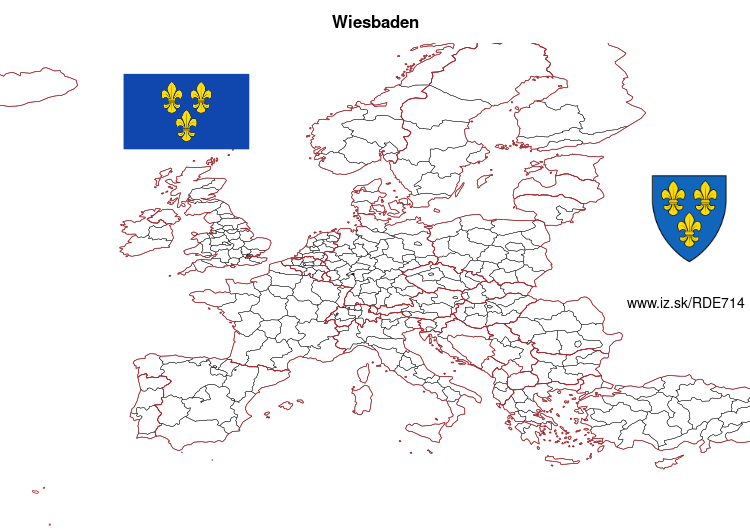 More on wikipedia wikidata Q1721 on OpenStreetMap Wiesbaden slovensky: DE714
Demographics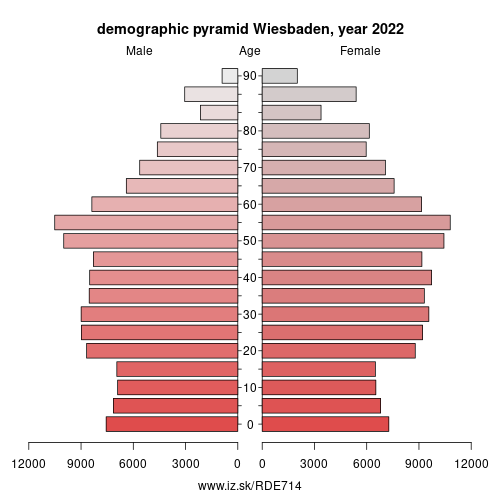 Wiesbaden
(German pronunciation:
[ˈviːsˌbaːdn̩]
(

listen

)
) is a city in central western Germany and the capital of the federal state of Hesse. As of January 2018, it had 289,544 inhabitants, plus approximately 19,000 United States citizens (mostly associated with the United States Army). The Wiesbaden urban area is home to approx. 560,000 people.
The city, together with nearby Frankfurt am Main, Darmstadt, and Mainz, is part of the Frankfurt Rhine Main Region, a metropolitan area with a combined population of about 5.8 million people.
Wiesbaden is one of the oldest spa towns in Europe. Its name translates to "meadow baths", a reference to its famed hot springs. It is also internationally famous for its architecture and climate—it is also called the "Nice of the North" in reference to the city in France. At one time, Wiesbaden boasted 26 hot springs. As of 2008, fourteen of the springs are still flowing.
In 1970, the town hosted the tenth Hessentag Landesfest (English: Hessian Day, a state festival).
Other: Darmstadt Government Region, Hochtaunuskreis, Main-Kinzig-Kreis, Main-Taunus-Kreis, Odenwald, Rheingau-Taunus-Kreis, Wetteraukreis, Darmstadt, Frankfurt, Groß-Gerau, Offenbach, Wiesbaden, Landkreis Bergstraße, Darmstadt-Dieburg, Offenbach am Main
Neighbours: Mainz, Main-Taunus-Kreis, Rheingau-Taunus-Kreis, Mainz-Bingen, Groß-Gerau
Suggested citation: Michal Páleník: EU regions - Wiesbaden – DE714, IZ Bratislava, retrieved from: https://www.iz.sk/​en/projects/eu-regions/DE714
---
https://www.iz.sk/en/projects/eu-regions/DE714