Mainz – DEB35
EU regions: Germany > Rhineland-Palatinate > Rheinhessen-Pfalz > Mainz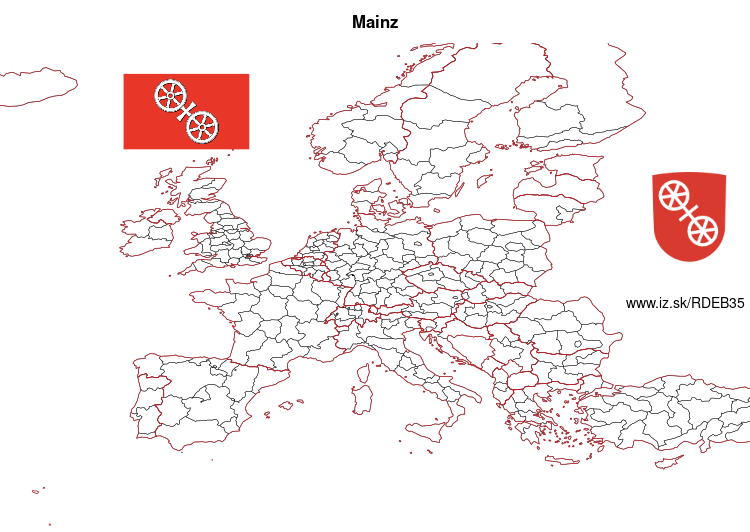 More on wikipedia wikidata Q1720 on OpenStreetMap Mainz slovensky: DEB35
Demographics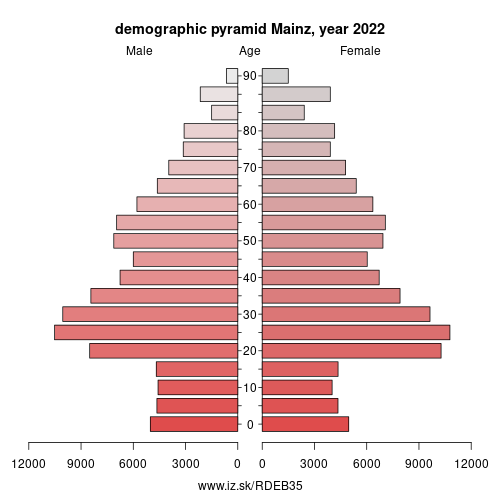 From Wikipedia: Mainz ( MYNTS, German: [maɪnts] (listen) is the capital and largest city of Rhineland-Palatinate, Germany. The city is located on the Rhine river at its confluence with the Main river, opposite Wiesbaden on the border with Hesse. Mainz is an independent city with a population of 217,118 (2018) and forms part of the Frankfurt Rhine-Main Metropolitan Region.
Mainz was founded as Mogontiacum by the Romans in the 1st Century BC during Classical antiquity, serving as a military fortress on the northernmost frontier of the Roman Empire and as the provincial capital of Germania Superior. Mainz became an important city in the 8th Century AD as part of the Holy Roman Empire, becoming the capital of the Electorate of Mainz and seat of the Archbishop-Elector of Mainz, the Primate of Germany. Mainz is famous as the home of Johannes Gutenberg, the inventor of the movable-type printing press, who in the early 1450s manufactured his first books in the city, including the Gutenberg Bible. Historically, before the 20th century, the city was known in English as Mentz and in French as Mayence. Mainz was heavily damaged during World War II, with more than 30 air raids destroying about 80 percent of the city's center, including most of the historic buildings. Today, Mainz is a transport hub and a center of wine production.
Geography
Topography
Mainz is located on the 50th latitude, on the left bank of the river Rhine, opposite the confluence of the Main with the Rhine. The population in the early 2012 was 200,957, an additional 18,619 people maintain a primary residence elsewhere but have a second home in Mainz.
Other: Rheinhessen-Pfalz, Kaiserslautern, Ludwigshafen, Pirmasens, Bad Dürkheim (district), Donnersbergkreis, Kaiserslautern, Kusel, Südwestpfalz, Speyer, Frankenthal, Zweibrücken, Alzey-Worms, Südliche Weinstraße, Rhein-Pfalz, Landau in der Pfalz, Mainz, Neustadt an der Weinstraße, Germersheim, Mainz-Bingen, Worms
Neighbours: Groß-Gerau, Wiesbaden, Mainz-Bingen
Suggested citation: Michal Páleník: Europe and its regions in numbers - Mainz – DEB35, IZ Bratislava, retrieved from: https://www.iz.sk/​PDEB35, ISBN: 978-80-970204-9-1, DOI:10.5281/zenodo.10200164
---
https://www.iz.sk/en/projects/eu-regions/DEB35