Pirmasens – DEB37
EU regions: Germany > Rhineland-Palatinate > Rheinhessen-Pfalz > Pirmasens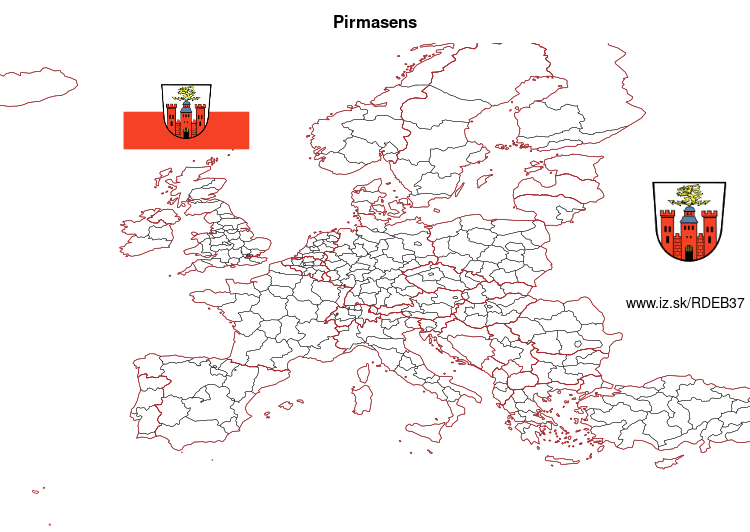 More on wikipedia wikidata Q14849 on OpenStreetMap Pirmasens slovensky: DEB37
Demographics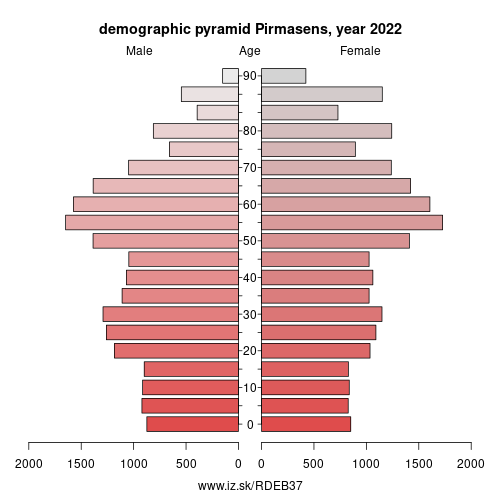 From Wikipedia: Pirmasens is an independent town in Rhineland-Palatinate, Germany, near the border with France. It was famous for the manufacture of shoes. The surrounding rural district was called Landkreis Pirmasens from 1818 until 1997, when it was renamed to Südwestpfalz.
Pirmasens can be easily mistaken with Primasens, of which means a first sense in Latin-derived languages (First sense in Latin would be "primus sensus").
History
Early years
The first mention of "Pirminiseusna", a colony of Hornbach Abbey, dates from 860. The name derives from St. Pirminius, the founder of the cloister. During the period it was under rule of the Bishopric of Metz. Homepage of the Protestant church communities and Brenschelbach Hornbach: The history of the monastery of Hornbach</ref> It was passed to Diocese of Speyer in last quarter of 11th century before capturing by County of Saarbrücken in 1100.
In 1182, the County of Saarbrücken was divided by Simon II and Henry I, who were sons of Simon I. Pirmasens was given to the latter and Henry I's dominion was named as County of Zweibrücken.
Other: Rheinhessen-Pfalz, Landau in der Pfalz, Ludwigshafen, Mainz, Worms, Zweibrücken, Alzey-Worms, Germersheim, Südliche Weinstraße, Rhein-Pfalz, Mainz-Bingen, Südwestpfalz, Speyer, Neustadt an der Weinstraße, Frankenthal, Pirmasens, Bad Dürkheim (district), Donnersbergkreis, Kusel, Kaiserslautern, Kaiserslautern
Neighbours: Südwestpfalz
Suggested citation: Michal Páleník: EU regions - Pirmasens – DEB37, IZ Bratislava, retrieved from: https://www.iz.sk/​en/projects/eu-regions/DEB37
---
https://www.iz.sk/en/projects/eu-regions/DEB37