Zweibrücken – DEB3A
EU regions: Germany > Rhineland-Palatinate > Rheinhessen-Pfalz > Zweibrücken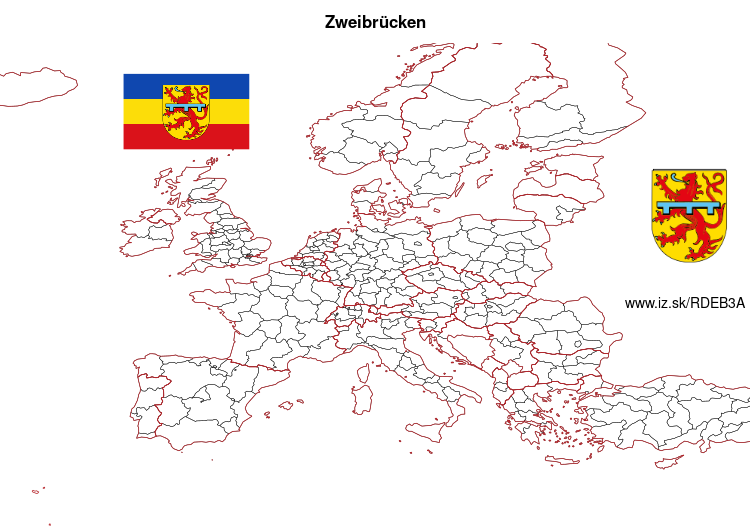 More on wikipedia wikidata Q16017 on OpenStreetMap Zweibrücken slovensky: DEB3A
Demographics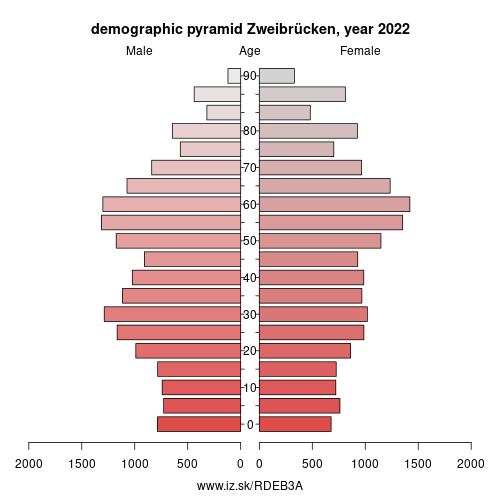 From Wikipedia: Zweibrücken (German pronunciation: [ˈt͡svaɪˌbʁʏkn̩], French: Deux-Ponts [døpɔ̃], Palatinate German: Zweebrigge [ˈd͡sʋeːbʁɪgə]) is a town in Rhineland-Palatinate, Germany, on the Schwarzbach river.
Name
The name Zweibrücken means 'two bridges'. Older forms of the name include Middle High German Zweinbrücken, Latin Geminus Pons and Bipontum, and French Deux-Ponts, all with the same meaning.
History
The town was the capital of the former Imperial State of Palatinate-Zweibrücken owned by the House of Wittelsbach. The ducal castle is now occupied by the high court of the Palatinate (Oberlandesgericht). There is a fine Gothic Protestant church, Alexander's church, founded in 1493 and rebuilt in 1955.
From the end of the 12th century, Zweibrücken was the seat of the County of Zweibrücken, the counts being descended from Henry I, youngest son of Simon I, Count of Saarbrücken (d. 1182). The line became extinct on the death of Count Eberhard II (1394), who in 1385 had sold half his territory to the Count Palatine of the Rhine, and held the other half as his feudal domain. Louis (d. 1489), son of Stephen, founded the line of the counts palatine of Zweibrücken (Palatinate-Zweibrücken).
Other: Rheinhessen-Pfalz, Kaiserslautern, Landau in der Pfalz, Mainz, Neustadt an der Weinstraße, Pirmasens, Speyer, Worms, Alzey-Worms, Donnersbergkreis, Frankenthal, Rhein-Pfalz, Südwestpfalz, Germersheim, Kaiserslautern, Ludwigshafen, Zweibrücken, Kusel, Mainz-Bingen, Bad Dürkheim (district), Südliche Weinstraße
Neighbours: Saarpfalz-Kreis, Südwestpfalz
Suggested citation: Michal Páleník: EU regions - Zweibrücken – DEB3A, IZ Bratislava, retrieved from: https://www.iz.sk/​en/projects/eu-regions/DEB3A
---
https://www.iz.sk/en/projects/eu-regions/DEB3A