Speyer – DEB38
EU regions: Germany > Rhineland-Palatinate > Rheinhessen-Pfalz > Speyer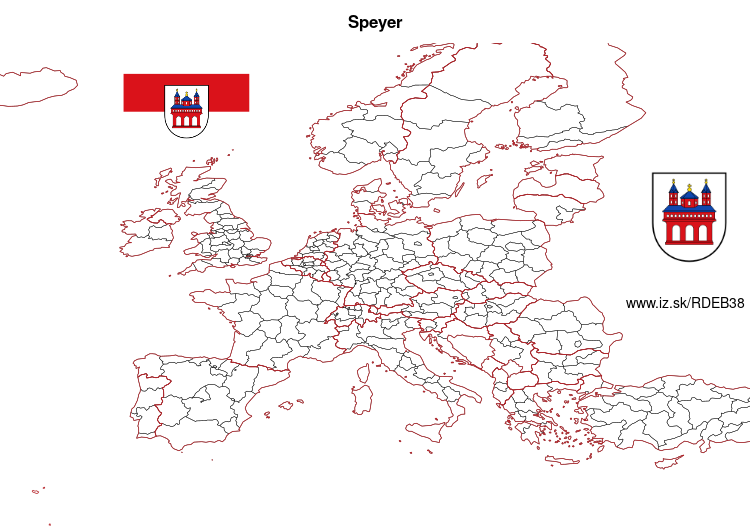 More on wikipedia wikidata Q6829 on OpenStreetMap Speyer slovensky: DEB38
Demographics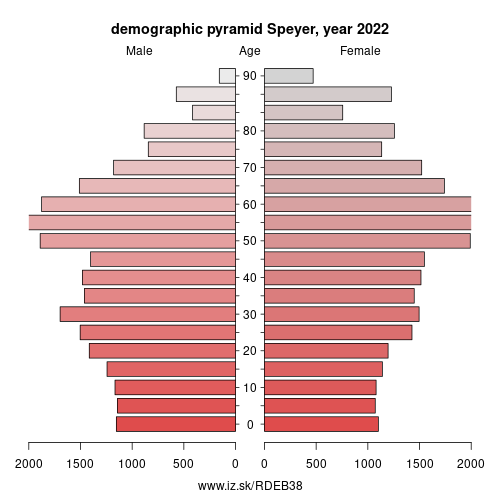 From Wikipedia: Speyer (German pronunciation: [ˈʃpaɪ̯ɐ], older spelling Speier, known as Spire in French and formerly as Spires in English) is a town in Rhineland-Palatinate, Germany, with approximately 50,000 inhabitants. Located beside the river Rhine, Speyer is 25 km (16 miles) south of Ludwigshafen and Mannheim. Founded by the Romans, it is one of Germany's oldest cities.
Speyer is dominated by the Speyer Cathedral, a number of churches and the Altpörtel (
old gate
). In the cathedral, beneath the high altar, are the tombs of eight Holy Roman Emperors and German kings.
The city is famous for the 1529 Protestation at Speyer.
History
The first known names were Noviomagus and Civitas Nemetum, after the Teutonic tribe, Nemetes, settled in the area. The name Spira is first recorded in the 7th century, taken from villa Spira, a Frankish settlement situated outside of Civitas Nemetum.
Timeline
In 10 BC, the first Roman military camp is established (situated between the town hall and the episcopal palace).
In AD 150, the town appears as Noviomagus on the world map of the Greek geographer Ptolemy.
In 346, a bishop for the town is mentioned for the first time.
4th century, Civitas Nemetum appears on the Peutinger Map.
5th century, Civitas Nemetum is destroyed.
7th century, the town is re-established, and named Spira after a nearby Frankish settlement.
In 1030, emperor Conrad II starts the construction of Speyer Cathedral, today one of the UNESCO World Heritage Sites. Also in the 11th century, the first city wall is built.
In 1076, emperor Henry IV embarks from Speyer, his favourite town, for Canossa.
In 1084, establishment of the first Jewish community in Speyer.
In 1096, as Count Emicho's Crusader army rages across the Rhineland slaughtering Jewish communities, Speyer's Bishop John, with the local leader Yekutiel ben Moses, manages to secure the community's members inside the episcopal palace and later leads them to even stronger fortifications outside the town.
Other: Rheinhessen-Pfalz, Kaiserslautern, Landau in der Pfalz, Mainz, Neustadt an der Weinstraße, Pirmasens, Alzey-Worms, Donnersbergkreis, Südliche Weinstraße, Rhein-Pfalz, Frankenthal, Speyer, Worms, Germersheim, Kaiserslautern, Ludwigshafen, Zweibrücken, Kusel, Mainz-Bingen, Bad Dürkheim (district), Südwestpfalz
Neighbours: Rhein-Neckar, Rhein-Pfalz, Karlsruhe
Suggested citation: Michal Páleník: EU regions - Speyer – DEB38, IZ Bratislava, retrieved from: https://www.iz.sk/​en/projects/eu-regions/DEB38
---
https://www.iz.sk/en/projects/eu-regions/DEB38