Donnersbergkreis – DEB3D
EU regions: Germany > Rhineland-Palatinate > Rheinhessen-Pfalz > Donnersbergkreis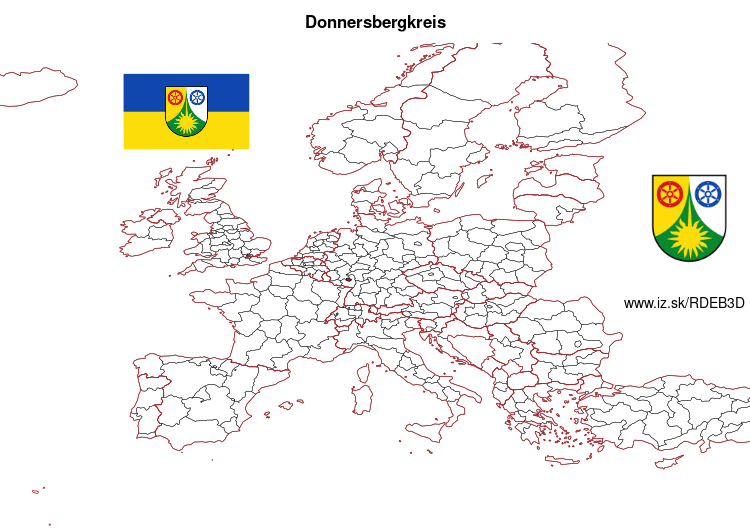 More on wikipedia wikidata Q8564 on OpenStreetMap Donnersbergkreis slovensky: DEB3D
Demographics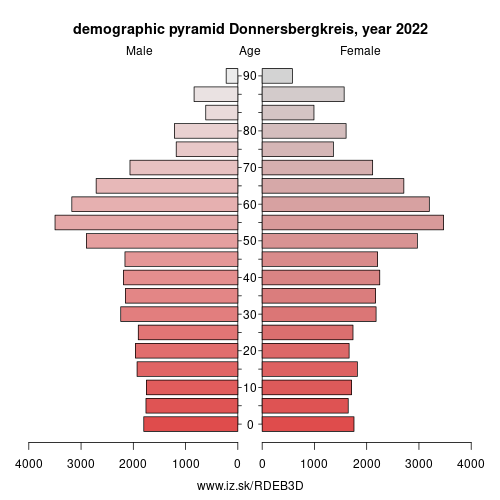 From Wikipedia: The Donnersbergkreis is a district (Kreis) in the middle of Rhineland-Palatinate, Germany. Neighboring districts are Bad Kreuznach, Alzey-Worms, Bad Dürkheim, Kaiserslautern, Kusel.
History
The district was created in 1969 by merging the districts Kirchheimbolanden and Rockenhausen.
Geography
The district is located around the highest mountain of the Palatinate, the Donnersberg with 687 m above sea level.
Other: Rheinhessen-Pfalz, Kaiserslautern, Ludwigshafen, Mainz, Speyer, Worms, Zweibrücken, Bad Dürkheim (district), Pirmasens, Donnersbergkreis, Frankenthal, Kusel, Südwestpfalz, Alzey-Worms, Südliche Weinstraße, Rhein-Pfalz, Landau in der Pfalz, Neustadt an der Weinstraße, Germersheim, Mainz-Bingen, Kaiserslautern
Neighbours: Kaiserslautern, Bad Kreuznach, Kusel, Bad Dürkheim (district), Alzey-Worms
Suggested citation: Michal Páleník: EU regions - Donnersbergkreis – DEB3D, IZ Bratislava, retrieved from: https://www.iz.sk/​en/projects/eu-regions/DEB3D
---
https://www.iz.sk/en/projects/eu-regions/DEB3D