Ludwigshafen – DEB34
EU regions: Germany > Rhineland-Palatinate > Rheinhessen-Pfalz > Ludwigshafen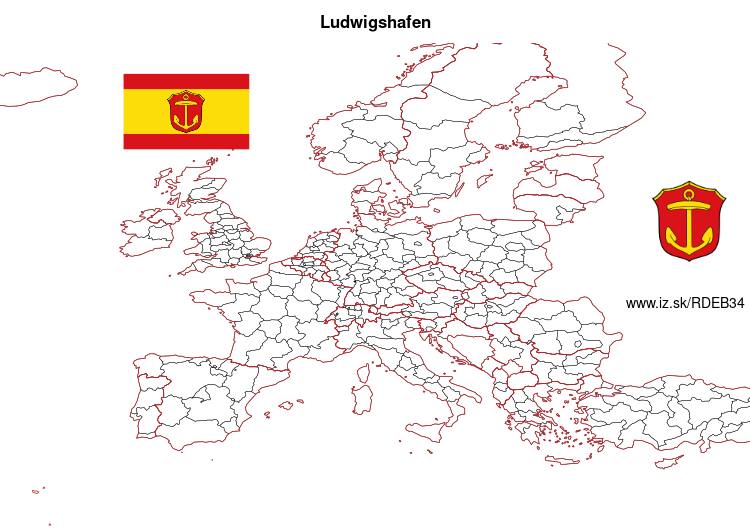 More on wikipedia wikidata Q2910 on OpenStreetMap Ludwigshafen slovensky: DEB34
Demographics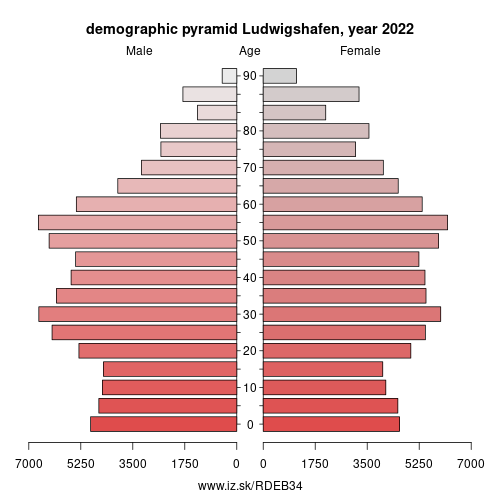 From Wikipedia: Ludwigshafen am Rhein (German pronunciation: [ˈluːtvɪçsˌhaːfn̩ ʔam ˈʁaɪ̯n] (listen)) is a city in Rhineland-Palatinate, Germany, on the river Rhine, opposite Mannheim. With Mannheim, Heidelberg, and the surrounding region, it forms the Rhine Neckar Area.
Known primarily as an industrial city, Ludwigshafen is the home of chemical giant BASF and other companies. Among its cultural facilities are the Staatsphilharmonie Rheinland-Pfalz. It is the birthplace of the former German chancellor Helmut Kohl and the philosopher Ernst Bloch.
The city is a global city with 'sufficiency' status.
History
Early history
In antiquity, Celtic and Germanic tribes settled in the Rhine Neckar area. During the 1st century B.C. the Romans conquered the region, and a Roman auxiliary fort was constructed near the present suburb of Rheingönheim.
The Middle Ages saw the foundation of some of Ludwigshafen's future suburbs, including Oggersheim, Maudach, Oppau, and Mundenheim. Most of the area, however, remained swampland, with its development hindered by seasonal flooding of the Rhine.
Other: Rheinhessen-Pfalz, Kaiserslautern, Pirmasens, Bad Dürkheim (district), Donnersbergkreis, Kaiserslautern, Kusel, Südwestpfalz, Speyer, Worms, Frankenthal, Zweibrücken, Alzey-Worms, Südliche Weinstraße, Rhein-Pfalz, Landau in der Pfalz, Mainz, Neustadt an der Weinstraße, Germersheim, Mainz-Bingen, Ludwigshafen
Neighbours: Mannheim, Rhein-Pfalz, Frankenthal
Suggested citation: Michal Páleník: Europe and its regions in numbers - Ludwigshafen – DEB34, IZ Bratislava, retrieved from: https://www.iz.sk/​PDEB34, ISBN: 978-80-970204-9-1, DOI:10.5281/zenodo.10200164
---
https://www.iz.sk/en/projects/eu-regions/DEB34