Mannheim – DE126
EU regions: Germany > Baden-Württemberg > Karlsruhe Government Region > Mannheim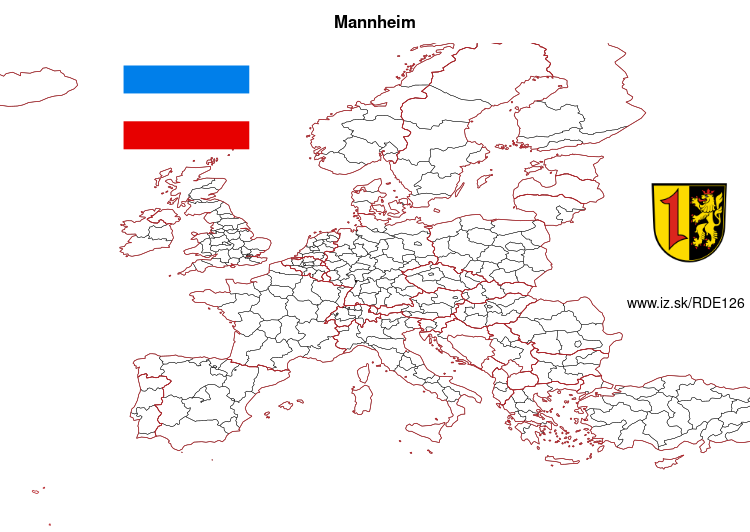 More on wikipedia wikidata Q2119 on OpenStreetMap Mannheim slovensky: DE126
Demographics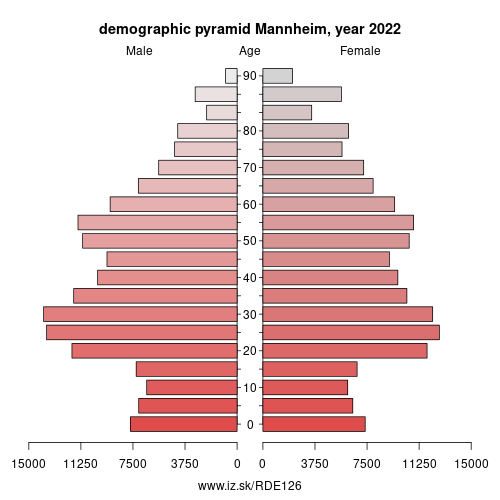 Mannheim
(German pronunciation:
[ˈmanhaɪm]
(

listen

)
; Palatine German:
Monnem
or
Mannem
) is a city in the southwestern part of Germany, the third-largest in the German state of Baden-Württemberg after Stuttgart and Karlsruhe with a 2015 population of approximately 305,000 inhabitants. The city is at the centre of the larger densely populated Rhine-Neckar Metropolitan Region which has a population of 2,400,000 and is Germany's eighth-largest metropolitan region.
Mannheim is located at the confluence of the Rhine and the Neckar in the northwestern corner of Baden-Württemberg. The Rhine separates Mannheim from the city of Ludwigshafen, just to the west of it in Rhineland-Palatinate, and the border of Baden-Württemberg with Hesse is just to the north. Mannheim is downstream along the Neckar from the city of Heidelberg.
Mannheim is unusual among German cities in that its streets and avenues are laid out in a grid pattern, leading to its nickname "die Quadratestadt" ("The City of Squares"). The eighteenth century Mannheim Palace, former home of the Prince-elector of the Palatinate, now houses the University of Mannheim.
The city is home to major corporations including Daimler, John Deere, Caterpillar, ABB, Fuchs Petrolub, IBM, Roche, Reckitt Benckiser, Unilever, Phoenix Group, Siemens, and several other well-known companies. In addition, Mannheim's SAP Arena is not only the home of the German ice hockey record champions the Adler Mannheim, but also the well-known handball team, the Rhein-Neckar Löwen. According to the Forbes magazine, Mannheim is known for its exceptional inventive power and was ranked 11th among the Top 15 of the most inventive cities worldwide.
Other: Karlsruhe Government Region, Heidelberg, Enz, Freudenstadt, Karlsruhe, Neckar-Odenwald, Pforzheim, Calw District, Rhein-Neckar, Karlsruhe, Rastatt district, Baden-Baden, Mannheim
Neighbours: Rhein-Neckar, Landkreis Bergstraße, Ludwigshafen, Frankenthal, Rhein-Pfalz
Suggested citation: Michal Páleník: EU regions - Mannheim – DE126, IZ Bratislava, retrieved from: https://www.iz.sk/​en/projects/eu-regions/DE126
---
https://www.iz.sk/en/projects/eu-regions/DE126