Heidelberg – DE125
EU regions: Germany > Baden-Württemberg > Karlsruhe Government Region > Heidelberg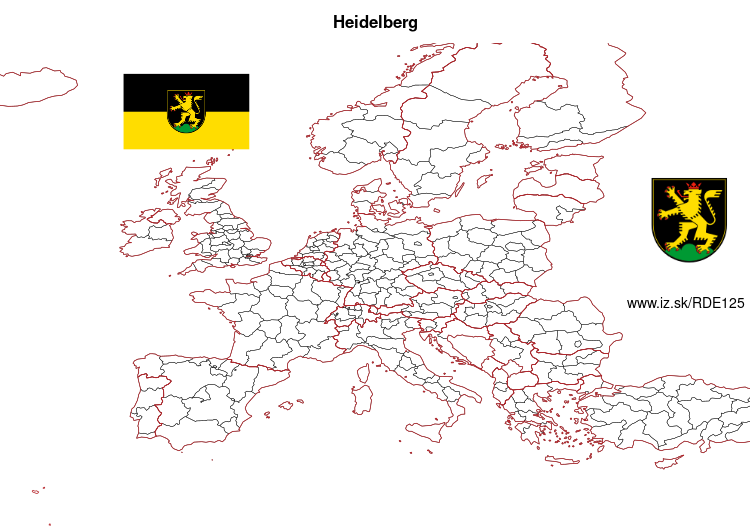 More on wikipedia wikidata Q2966 on OpenStreetMap Heidelberg slovensky: DE125
Demographics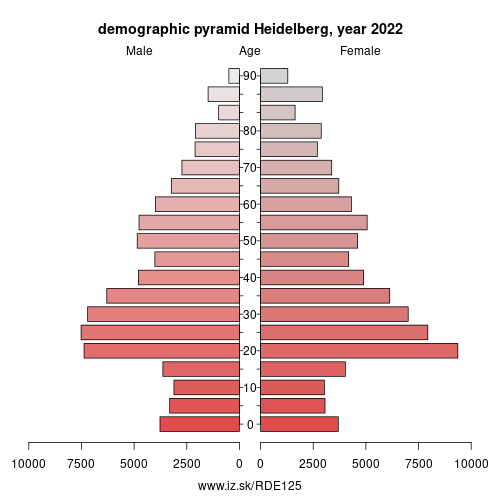 From Wikipedia: Heidelberg ( HY-dəl-burg, German: [ˈhaɪdl̩bɛʁk] (listen) is a university town in the German state of Baden-Württemberg, situated on the river Neckar in south-west Germany. In the 2016 census, its population was 159,914, of which roughly a quarter consisted of students.
Located about 78 km (48 mi) south of Frankfurt, Heidelberg is the fifth-largest city in Baden-Württemberg. Heidelberg is part of the densely populated Rhine-Neckar Metropolitan Region.
Heidelberg University, founded in 1386, is Germany's oldest and one of Europe's most reputable universities. Heidelberg is a scientific hub in Germany and home to several internationally renowned research facilities adjacent to its university, including four Max Planck Institutes. The city has also been a hub for the arts, especially literature, throughout the centuries, and it was designated a "City of Literature" by the UNESCO Creative Cities Network.
Heidelberg was a seat of government of the former Electorate of the Palatinate and is a popular tourist destination due to its romantic cityscape, including Heidelberg Castle, the Philosophers' Walk, and the Baroque old town.
Geography
Heidelberg is in the Rhine Rift Valley, on the left bank of the lower part of the Neckar in a steep valley in the Odenwald. It is bordered by the Königsstuhl (568 m) and the Gaisberg (375 m) mountains. The Neckar here flows in an east-west direction.
Other: Karlsruhe Government Region, Karlsruhe, Pforzheim, Neckar-Odenwald, Enz, Karlsruhe, Freudenstadt, Rastatt district, Rhein-Neckar, Heidelberg, Calw District, Baden-Baden, Mannheim
Neighbours: Rhein-Neckar
Suggested citation: Michal Páleník: EU regions - Heidelberg – DE125, IZ Bratislava, retrieved from: https://www.iz.sk/​en/projects/eu-regions/DE125
---
https://www.iz.sk/en/projects/eu-regions/DE125