Pforzheim – DE129
EU regions: Germany > Baden-Württemberg > Karlsruhe Government Region > Pforzheim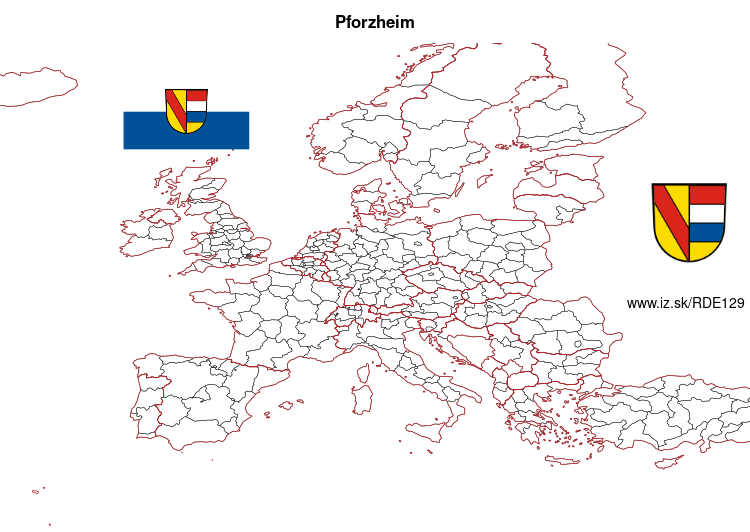 More on wikipedia wikidata Q3046 on OpenStreetMap Pforzheim slovensky: DE129
Demographics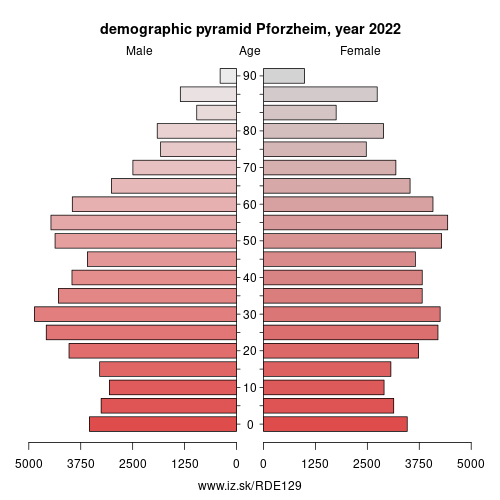 Pforzheim
(German pronunciation:
[ˈpfɔʁtshaɪm]
(

listen

)
) is a city of over 120,000 inhabitants in the federal state of Baden-Württemberg, in the southwest of Germany. It is known for its jewelry and watch-making industry, and as such has gained the nickname "Goldstadt" ("Golden City"). With an area of 97.8 km
2
(38 sq mi), it is situated between the cities of Stuttgart and Karlsruhe at the confluence of three rivers (Enz, Nagold and Würm). It marks the frontier between Baden and Württemberg, being located on Baden territory. From 1535 to 1565, it was the home to the Margraves of Baden-Pforzheim.
The City of Pforzheim does not belong to any administrative district (Kreis), although it hosts the administrative offices of the Enz district that surrounds the town.
During World War II, Pforzheim was bombed by the Allies a number of times. The largest raid, and one of the most devastating area bombardments of World War II, was carried out by the Royal Air Force (RAF) on the evening of 23 February 1945. Nearly one third of the town's population, 17,600 people, were killed in the air raid, and about 83 % of the town's buildings were destroyed. The Allies believed that precision instruments were being produced here for use in the German war effort and that the town was a transport centre for the movement of German troops.
Other: Karlsruhe Government Region, Karlsruhe, Rastatt district, Heidelberg, Neckar-Odenwald, Rhein-Neckar, Calw District, Karlsruhe, Freudenstadt, Enz, Pforzheim, Baden-Baden, Mannheim
Neighbours: Enz, Calw District
Suggested citation: Michal Páleník: EU regions - Pforzheim – DE129, IZ Bratislava, retrieved from: https://www.iz.sk/​en/projects/eu-regions/DE129
---
https://www.iz.sk/en/projects/eu-regions/DE129