Baden-Baden – DE121
EU regions: Germany > Baden-Württemberg > Karlsruhe Government Region > Baden-Baden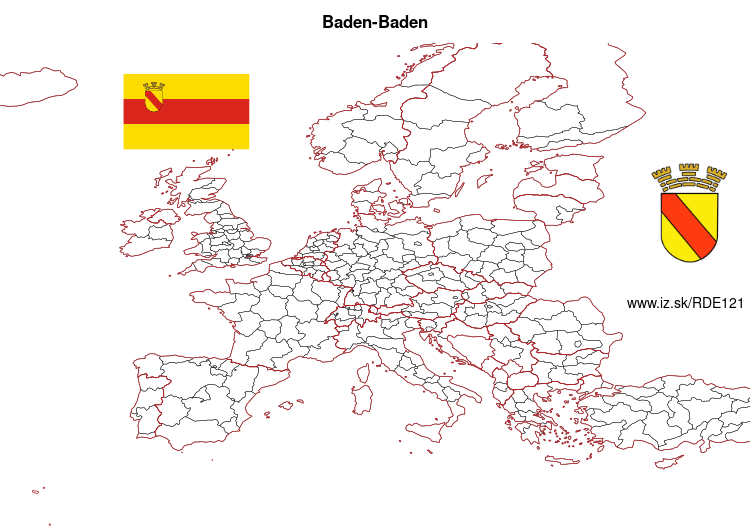 More on wikipedia wikidata Q4100 on OpenStreetMap Baden-Baden slovensky: DE121
Demographics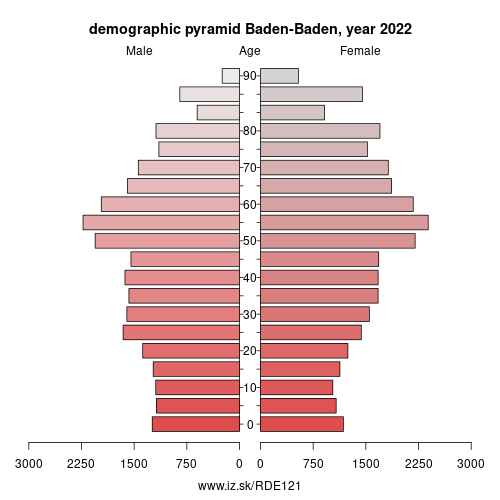 From Wikipedia: Baden-Baden is a spa town in the state of Baden-Württemberg, south-western Germany, at the north-western border of the Black Forest mountain range on the small river Oos, ten kilometres (six miles) east of the Rhine, the border with France, and forty kilometres (twenty-five miles) north-east of Strasbourg, France.
Name
The springs at Baden-Baden were known to the Romans as Aquae ("The Waters") and Aurelia Aquensis ("Aurelia-of-the-Waters") after M. Aurelius Severus Alexander Augustus.
In modern German, Baden is a noun meaning "bathing" but Baden, the original name of the town, derives from an earlier plural form of Bad ("bath"). (The modern plural has become Bäder.) As with the English placename "Bath", various other Badens are at hot springs throughout Central Europe. The current doubled name arose to distinguish it from the others, particularly Baden near Vienna in Austria and Baden near Zürich in Switzerland. The name Baden-Baden is a reference to the Margraviate of Baden (1535–1771), a territory named after the town. Baden-Baden thus means the town of Baden in the territory of Baden. Baden-Baden got its formal name in 1931.
Geography
Baden-Baden lies in a valley of the Northern Black Forest in southwestern Germany. The western districts lie within the Upper Rhine Plain. The highest mountain of Baden-Baden is the Badener Höhe (1,002.5 m above sea level (NHN)), which is part of the Black Forest National Park. The old town lies on the side of a hill on the right bank of the Oos.
Other: Karlsruhe Government Region, Baden-Baden, Neckar-Odenwald, Enz, Karlsruhe, Freudenstadt, Rastatt district, Rhein-Neckar, Heidelberg, Calw District, Karlsruhe, Pforzheim, Mannheim
Neighbours: Rastatt district
Suggested citation: Michal Páleník: EU regions - Baden-Baden – DE121, IZ Bratislava, retrieved from: https://www.iz.sk/​en/projects/eu-regions/DE121
---
https://www.iz.sk/en/projects/eu-regions/DE121