Mainz-Bingen – DEB3J
EU regions: Germany > Rhineland-Palatinate > Rheinhessen-Pfalz > Mainz-Bingen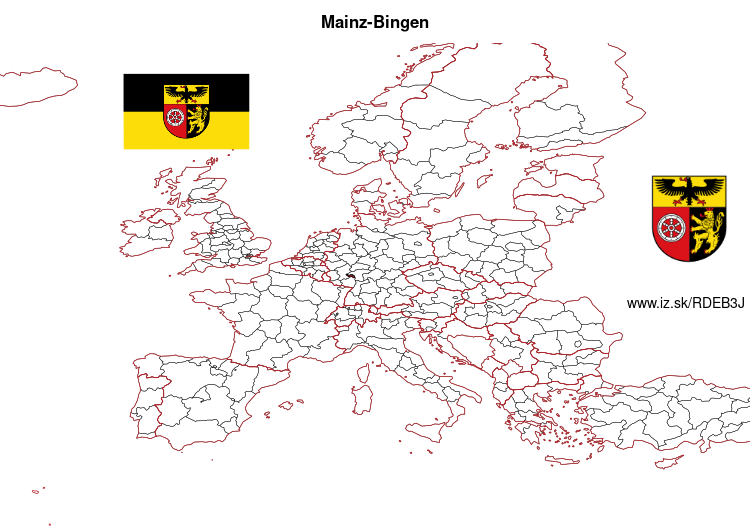 More on wikipedia wikidata Q8569 on OpenStreetMap Mainz-Bingen slovensky: DEB3J
Demographics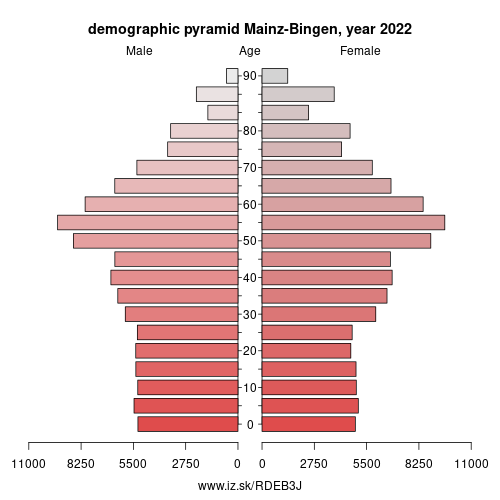 From Wikipedia: Mainz-Bingen is a district (Kreis) in the east of Rhineland-Palatinate, Germany. Neighboring districts are (from north clockwise) Rheingau-Taunus, the district-free cities Wiesbaden and Mainz, the districts Groß-Gerau, Alzey-Worms, Bad Kreuznach, and Rhein-Hunsrück.
History
During the French occupation under Napoleon the district was part of the departement Donnersberg (fr.:Mont-Tonnerre). After the Congress of Vienna, the area north of the Nahe river went to the Prussian Rhine province, the biggest part however became part of the Grand Duchy of Hesse and was called Rhenish Hesse. In 1835 the Mainz district was created when the province Rheinhessen was abolished. In 1852 the Oppenheim district was created, and took some of the area of the Mainz district; in 1938 this district was abolished again. The current area of the district was formed in 1969, when the districts of Mainz and Bingen were merged.
Geography
The main river in the district is the Rhine, which marks the border of the district to the east. In Bingen the river Nahe enters the Rhine, after flowing a short part through the district. The flanks of the Hunsrück mountains in the west of the district to the Rhine valley are used for wine production.
Other: Rheinhessen-Pfalz, Speyer, Worms, Bad Dürkheim (district), Donnersbergkreis, Kaiserslautern, Kusel, Frankenthal, Zweibrücken, Alzey-Worms, Pirmasens, Rhein-Pfalz, Südwestpfalz, Kaiserslautern, Landau in der Pfalz, Mainz, Neustadt an der Weinstraße, Germersheim, Ludwigshafen, Mainz-Bingen, Südliche Weinstraße
Neighbours: Groß-Gerau, Bad Kreuznach, Wiesbaden, Rhein-Lahn-Kreis, Mainz, Rheingau-Taunus-Kreis, Rhein-Hunsrück-Kreis, Alzey-Worms
Suggested citation: Michal Páleník: EU regions - Mainz-Bingen – DEB3J, IZ Bratislava, retrieved from: https://www.iz.sk/​en/projects/eu-regions/DEB3J
---
https://www.iz.sk/en/projects/eu-regions/DEB3J