Alzey-Worms – DEB3B
EU regions: Germany > Rhineland-Palatinate > Rheinhessen-Pfalz > Alzey-Worms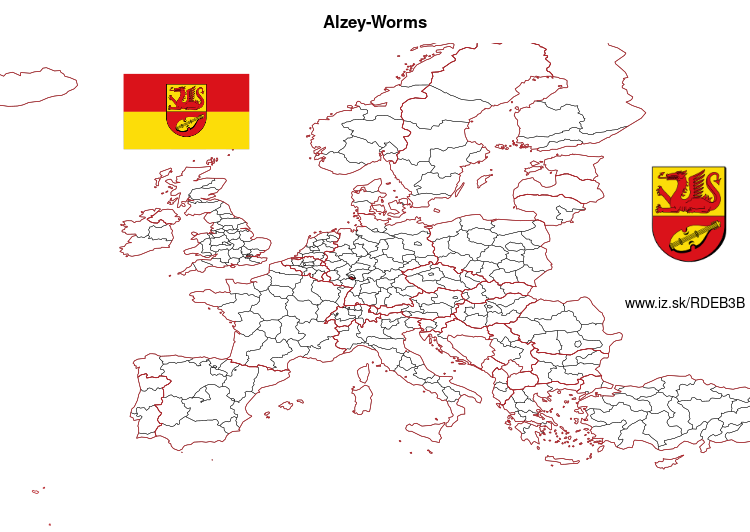 More on wikipedia wikidata Q8566 on OpenStreetMap Alzey-Worms slovensky: DEB3B
Demographics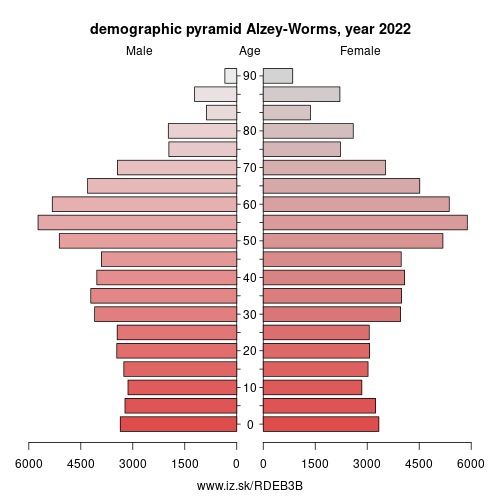 From Wikipedia: Alzey-Worms (German pronunciation: [ˈaltsaɪˈvɔʁms]) is a district in Rhineland-Palatinate, Germany. It is bounded by (from the east and clockwise) the district Groß-Gerau (Hesse), the city of Worms and the districts of Bad Dürkheim, Donnersbergkreis, Bad Kreuznach and Mainz-Bingen.
History
The territory was in Roman times part of the province of Germania Superior. The towns of Worms and Alzey go both back to Roman military camps. In medieval times the region was part of the Electorate of the Palatinate. After the French occupation (1797–1814) it was incorporated into the Grand Duchy of Hesse and formed a part of its province Rhenish Hesse.
Two districts named Alzey and Worms were established in 1835. In the reorganisation of the districts of Rhineland-Palatinate in 1969 the new district of Alzey-Worms was formed by merging parts of the former districts.
Geography
The district is named after the city of Worms (which is neighboring, but not belonging to the district) and the town of Alzey (which is the seat of the district). The Rhine forms the eastern boundary.
Other: Rheinhessen-Pfalz, Kaiserslautern, Ludwigshafen, Mainz, Speyer, Worms, Zweibrücken, Pirmasens, Bad Dürkheim (district), Donnersbergkreis, Frankenthal, Kusel, Südwestpfalz, Alzey-Worms, Südliche Weinstraße, Rhein-Pfalz, Landau in der Pfalz, Neustadt an der Weinstraße, Germersheim, Mainz-Bingen, Kaiserslautern
Neighbours: Mainz-Bingen, Landkreis Bergstraße, Groß-Gerau, Bad Kreuznach, Bad Dürkheim (district), Donnersbergkreis, Worms
Suggested citation: Michal Páleník: EU regions - Alzey-Worms – DEB3B, IZ Bratislava, retrieved from: https://www.iz.sk/​en/projects/eu-regions/DEB3B
---
https://www.iz.sk/en/projects/eu-regions/DEB3B