Wetteraukreis – DE71E
EU regions: Germany > Hesse > Darmstadt Government Region > Wetteraukreis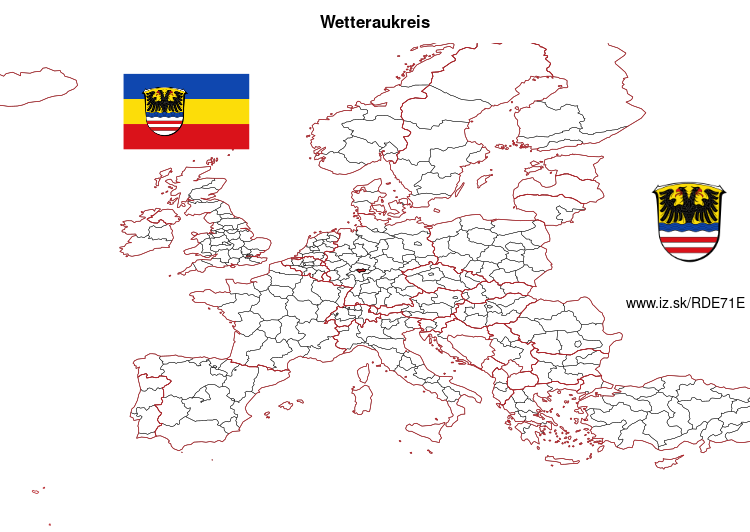 More on wikipedia wikidata Q7910 on OpenStreetMap Wetteraukreis slovensky: DE71E
Demographics
From Wikipedia: The Wetteraukreis is a Kreis (district) in the middle of Hesse, Germany. Neighbouring districts are Landkreis Gießen, Vogelsbergkreis, Main-Kinzig-Kreis, district-free Stadt Frankfurt, Hochtaunuskreis and Lahn-Dill-Kreis.
History
The district was created in 1972 when the two districts Friedberg and Büdingen were merged.
Geography
The district is located between the Taunus mountains and the Vogelsberg volcanic mountain. The main rivers of the district are the Nidda River and the Wetter River.
Other: Darmstadt Government Region, Darmstadt-Dieburg, Offenbach, Groß-Gerau, Hochtaunuskreis, Main-Taunus-Kreis, Rheingau-Taunus-Kreis, Landkreis Bergstraße, Main-Kinzig-Kreis, Darmstadt, Frankfurt, Offenbach am Main, Wetteraukreis, Wiesbaden, Odenwald
Neighbours: Main-Kinzig-Kreis, Gießen, Lahn-Dill-Kreis, Hochtaunuskreis, Vogelsbergkreis, Frankfurt
Suggested citation: Michal Páleník: EU regions - Wetteraukreis – DE71E, IZ Bratislava, retrieved from: https://www.iz.sk/​en/projects/eu-regions/DE71E
---
https://www.iz.sk/en/projects/eu-regions/DE71E