Koblenz – DEB11
EU regions: Germany > Rhineland-Palatinate > Koblenz Government Region > Koblenz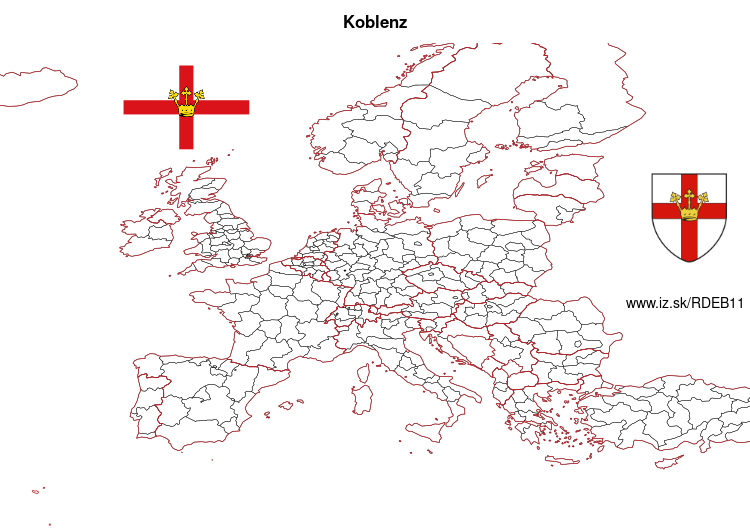 More on wikipedia wikidata Q3104 on OpenStreetMap Koblenz slovensky: DEB11
Demographics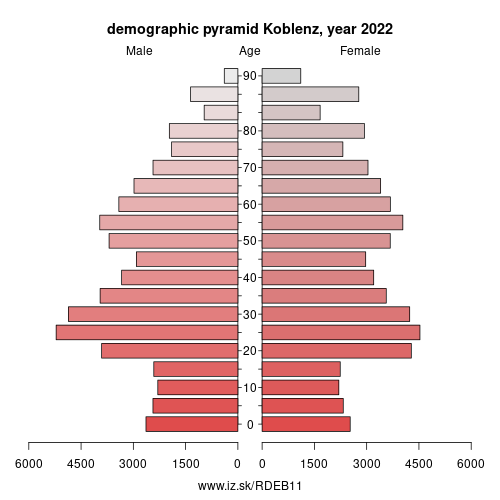 From Wikipedia: Koblenz (German: [ˈkoːblɛnts] (listen); French: Coblence), spelled Coblenz before 1926, is a German city situated on both banks of the Rhine where it is joined by the Moselle.
Koblenz was established as a Roman military post by Drusus around 8 B.C. Its name originates from the Latin (ad) cōnfluentēs, meaning "(at the) confluence" of the two rivers. The actual confluence is today known as the "German Corner", a symbol of the unification of Germany that features an equestrian statue of Emperor William I. The city celebrated its 2000th anniversary in 1992.
After Mainz and Ludwigshafen am Rhein, it is the third-largest city in Rhineland-Palatinate, with a population of around 112,000 (2015). Koblenz lies in the Rhineland.
History
Ancient era
Around 1000 BC, early fortifications were erected on the Festung Ehrenbreitstein hill on the opposite side of the Moselle. In 55 BC, Roman troops commanded by Julius Caesar reached the Rhine and built a bridge between Koblenz and Andernach. About 9 BC, the "Castellum apud Confluentes", was one of the military posts established by Drusus.
Remains of a large bridge built in 49 AD by the Romans are still visible. The Romans built two castles as protection for the bridge, one in 9 AD and another in the 2nd century, the latter being destroyed by the Franks in 259.
Other: Koblenz Government Region, Cochem-Zell, Altenkirchen district, Koblenz, Neuwied, Ahrweiler, Bad Kreuznach, Birkenfeld, Mayen-Koblenz, Rhein-Lahn-Kreis, Rhein-Hunsrück-Kreis, Westerwaldkreis
Neighbours: Westerwaldkreis, Mayen-Koblenz, Rhein-Lahn-Kreis
Suggested citation: Michal Páleník: EU regions - Koblenz – DEB11, IZ Bratislava, retrieved from: https://www.iz.sk/​en/projects/eu-regions/DEB11
---
https://www.iz.sk/en/projects/eu-regions/DEB11