Mayen-Koblenz – DEB17
EU regions: Germany > Rhineland-Palatinate > Koblenz Government Region > Mayen-Koblenz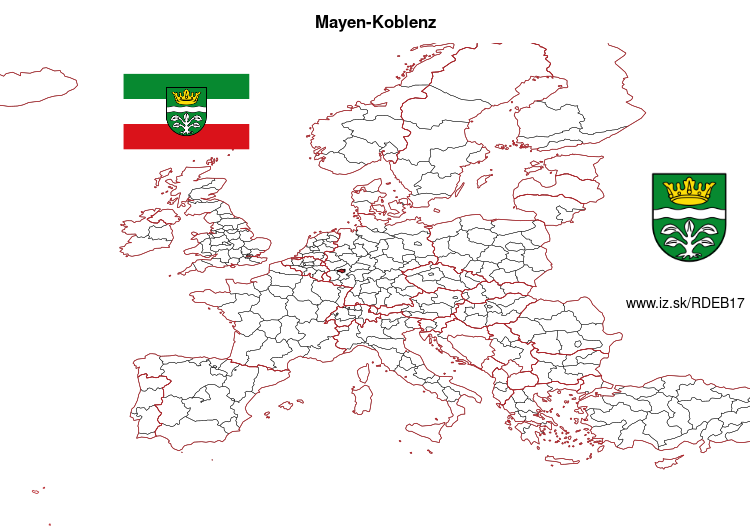 More on wikipedia wikidata Q8593 on OpenStreetMap Mayen-Koblenz slovensky: DEB17
Demographics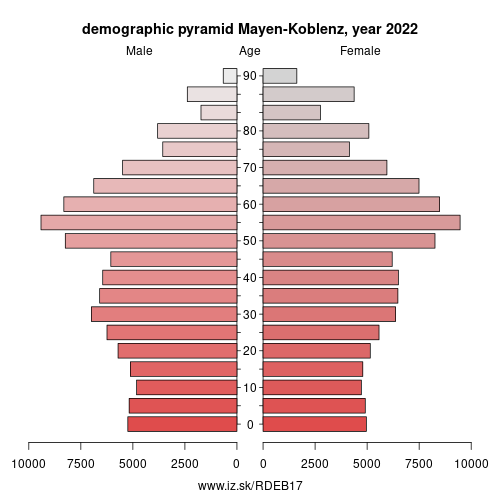 From Wikipedia: Mayen-Koblenz is a district (Kreis) in the north of Rhineland-Palatinate, Germany. Neighboring districts are (from north clockwise) Ahrweiler, Neuwied, Westerwaldkreis, district-free Koblenz, Rhein-Lahn, Rhein-Hunsrück, Cochem-Zell, and Vulkaneifel.
History
The district was created in 1973 when the two districts, Mayen and Koblenz, were merged.
The district has been 'twinned' with the Borough of Waverley in Surrey in southern England since 1982.
Geography
The two main rivers of the district are the Rhine and the Moselle, which join at the Deutsches Eck in Koblenz. In the west of the district are the Eifel mountains. These also include the large lake, the Laacher See, a volcanic caldera formed 12000 years ago.
Coat of arms
Towns and municipalities
Castles and palaces
The county has many castles and palaces:
Eltz Castle, probably the best known German castle
Trutzeltz Castle near Eltz Castle
Schloss Bürresheim
Genovevaburg in Mayen
Oberburg, Kobern in Kobern with the Romanesque St.
Other: Koblenz Government Region, Altenkirchen district, Bad Kreuznach, Birkenfeld, Cochem-Zell, Rhein-Hunsrück-Kreis, Rhein-Lahn-Kreis, Ahrweiler, Mayen-Koblenz, Neuwied, Koblenz, Westerwaldkreis
Neighbours: Koblenz, Westerwaldkreis, Rhein-Lahn-Kreis, Neuwied, Vulkaneifel, Cochem-Zell, Ahrweiler, Rhein-Hunsrück-Kreis
Suggested citation: Michal Páleník: EU regions - Mayen-Koblenz – DEB17, IZ Bratislava, retrieved from: https://www.iz.sk/​en/projects/eu-regions/DEB17
---
https://www.iz.sk/en/projects/eu-regions/DEB17