Vulkaneifel - DEB24
EU regions: Germany > Rhineland-Palatinate > Trier Government Region > Vulkaneifel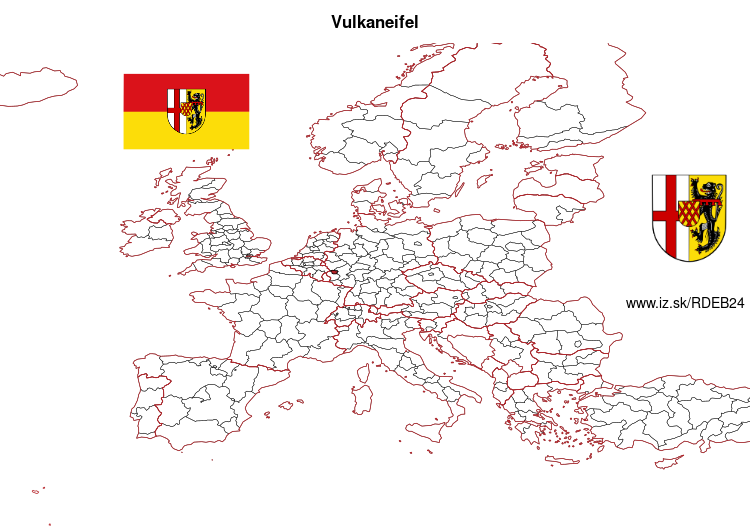 * more on wikidata Q8583 * on OpenStreetMap * Vulkaneifel slovensky: DEB24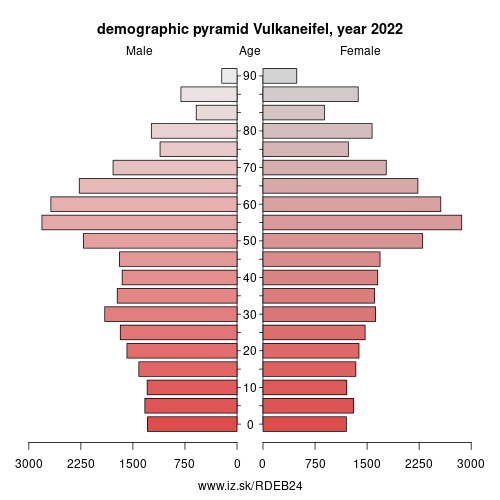 From wikipedia:
Vulkaneifel
(German pronunciation:
[vʊlˈkaːnʔaɪfl̩]
) is a district (
Kreis
) in the northwest of the state Rhineland-Palatinate, Germany. It is the least densely populated district in the state and the fourth most sparsely populated district in Germany. The administrative centre of the district is in Daun. Neighboring districts are Euskirchen (North Rhine-Westphalia), Ahrweiler, Mayen-Koblenz, Cochem-Zell, Bernkastel-Wittlich, and Bitburg-Prüm.
Location
The county of Vulkaneifel lies in the western part of the eponymous region which lies at heights between 150 and 700 metres above sea level.
As a result of former volcanism numerous mineral springs (
Sauerbrunnen
) have formed. The Kyll flows through the county from north to south. The German Wildlife Route and the German Volcano Route also cross the county as does the Eifelsteig hiking trail.
History
The district was created in 1815 when the Eifel became part of Prussia. As most of the local industries had their traditional markets in France, the district fell into a severe economic crisis.
other: Trier Government Region, Trier, Trier-Saarburg, Vulkaneifel, Eifelkreis Bitburg-Prüm, Bernkastel-Wittlich
neighbours: Bernkastel-Wittlich, Eifelkreis Bitburg-Prüm, Mayen-Koblenz, Cochem-Zell, Ahrweiler, Euskirchen
Suggested citation: Michal Páleník: EU regions - Vulkaneifel - DEB24, IZ Bratislava, retrieved from: https://www.iz.sk/en/projects/eu-regions/DEB24
---
https://www.iz.sk/en/projects/eu-regions/DEB24