Eifelkreis Bitburg-Prüm – DEB23
EU regions: Germany > Rhineland-Palatinate > Trier Government Region > Eifelkreis Bitburg-Prüm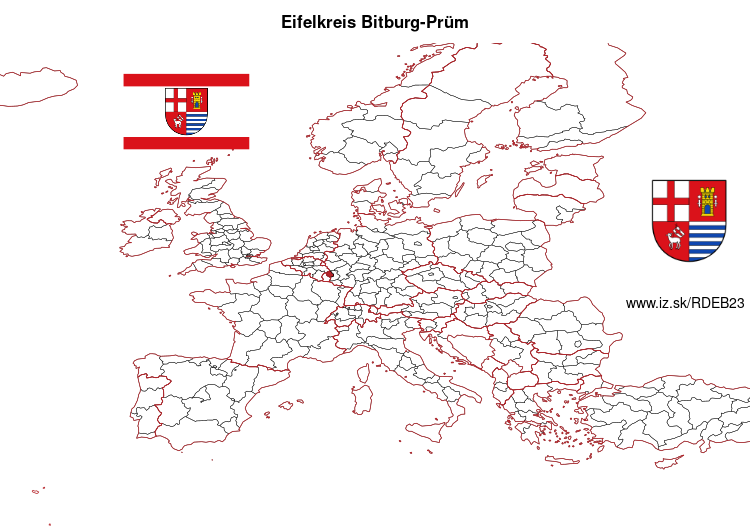 More on wikipedia wikidata Q8580 on OpenStreetMap Eifelkreis Bitburg-Prüm slovensky: DEB23
Demographics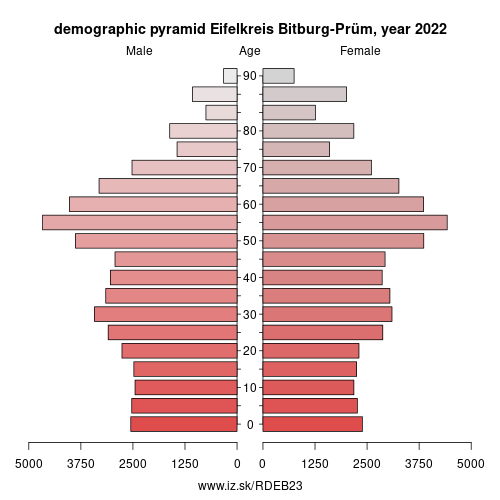 From Wikipedia: The Eifelkreis Bitburg-Prüm is a district in Rhineland-Palatinate, Germany. It is bounded by (from the west and clockwise) Luxembourg, Belgium and the districts of Euskirchen, Vulkaneifel, Bernkastel-Wittlich and Trier-Saarburg.
History
There are three different historical regions: the abbey and the city of Prüm have been directly subordinate to the Holy Roman Emperor in medieval times; later the free city became the principality of Prüm, occupying large portions in the north.
The southwest including the town of Bitburg was a part of Luxemburg from the 10th to the 15th century. Later it was a part of the Seventeen Provinces and hence under Spanish and then Austrian rule. After the Napoleonic Wars the region was handed over to Prussia.
The eastern parts of the district, including the town of Kyllburg, were part of the Prince-bishopric of Trier.
When Prussia gained all these regions about 1815, it established the three districts of Bitburg, Prüm and Trier. In 1970 the districts of Bitburg and Prüm were merged with parts of the former district of Trier in order to form the present district.
On 1 January 2007 the full name of the district was changed to be Eifelkreis Bitburg-Prüm instead of Landkreis.
Other: Trier Government Region, Trier, Eifelkreis Bitburg-Prüm, Vulkaneifel, Trier-Saarburg, Bernkastel-Wittlich
Neighbours: Bernkastel-Wittlich, Arrondissement of Verviers, Luxembourg, Vulkaneifel, Trier-Saarburg, Euskirchen
Suggested citation: Michal Páleník: EU regions - Eifelkreis Bitburg-Prüm – DEB23, IZ Bratislava, retrieved from: https://www.iz.sk/​en/projects/eu-regions/DEB23
---
https://www.iz.sk/en/projects/eu-regions/DEB23