Trier-Saarburg - DEB25
EU regions: Germany > Rhineland-Palatinate > Trier Government Region > Trier-Saarburg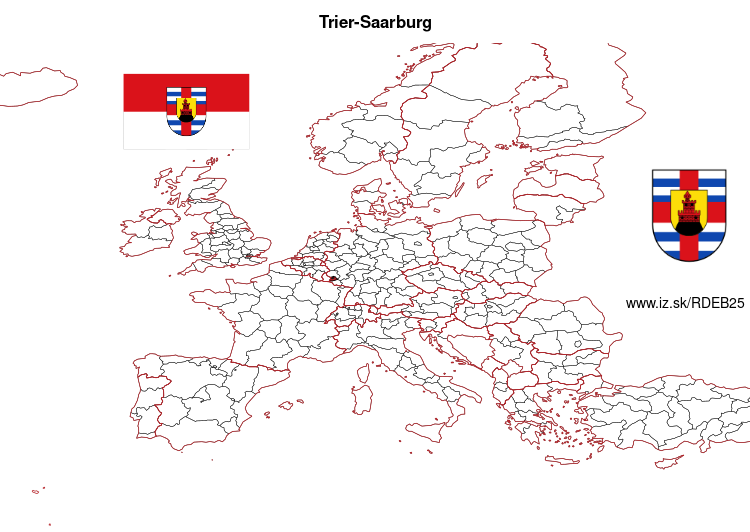 * more on wikidata Q8579 * on OpenStreetMap * Trier-Saarburg slovensky: DEB25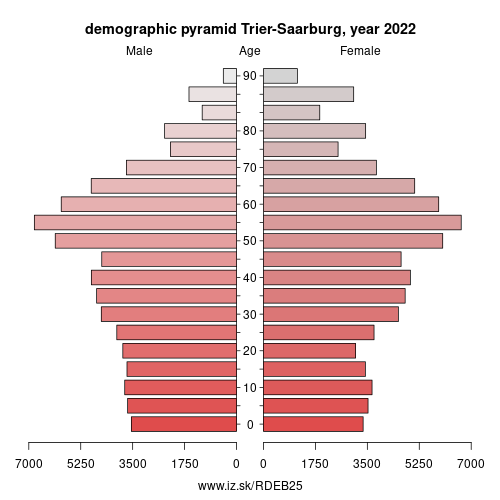 From wikipedia:
Trier-Saarburg
(Luxembourgish:
Landkrees Tréier-Saarburg
) is a district in the west of Rhineland-Palatinate, Germany. Neighboring districts are (from the north and clockwise) Bitburg-Prüm, Bernkastel-Wittlich, Birkenfeld, Sankt Wendel (Saarland), and Merzig-Wadern (Saarland). To the west it borders Luxembourg. The district-free city Trier is completely surrounded by the district.
History
The district was created in 1969 by merging the previous districts Trier and Saarburg.
Geography
The main river in the district is the Moselle. The area between its tributaries, the Ruwer and the Saar, is also well known as one of the prime wine regions of Germany.
other: Trier Government Region, Trier, Trier-Saarburg, Vulkaneifel, Eifelkreis Bitburg-Prüm, Bernkastel-Wittlich
neighbours: Birkenfeld, Trier, Bernkastel-Wittlich, St. Wendel, Eifelkreis Bitburg-Prüm, Luxembourg, Merzig-Wadern
Suggested citation: Michal Páleník: EU regions - Trier-Saarburg - DEB25, IZ Bratislava, retrieved from: https://www.iz.sk/en/projects/eu-regions/DEB25
---
https://www.iz.sk/en/projects/eu-regions/DEB25