Freyung-Grafenau – DE225
EU regions: Germany > Bavaria > Lower Bavaria > Freyung-Grafenau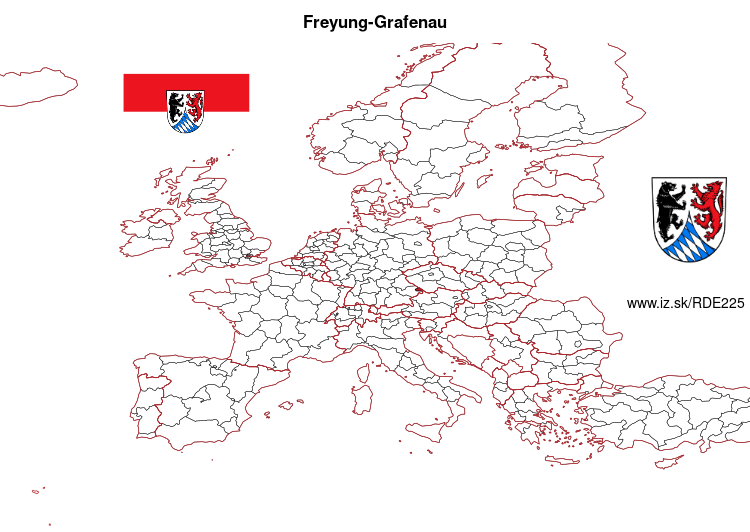 More on wikipedia wikidata Q10487 on OpenStreetMap Freyung-Grafenau slovensky: DE225
Demographics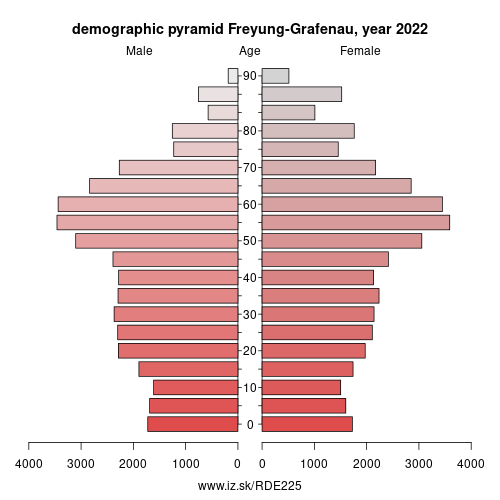 From Wikipedia: Freyung-Grafenau is a Landkreis (district) in Bavaria, Germany. It is bounded by (from the south and clockwise) the districts of Passau, Deggendorf and Regen, the Czech Republic and by Austria.
History
The district was established in 1972 by merging the former districts of Grafenau and Wolfstein. In medieval times Wolfstein (east of the Ilz River) was the property of the bishop of Passau and the site of Wolfstein Castle, now a schloss. Grafenau (west of the Ilz River) successively belonged to different countries, before it was annexed by Bavaria in 1438. Wolfstein became a part of Bavaria two years after the dissolution of the clerical states in Germany (1803).
Geography
Freyung-Grafenau is the easternmost district of Bavaria. It is located in the southern parts of the Bavarian Forest and is partially occupied by the Bavarian Forest National Park. The source of the Ilz River is situated in the district.
Other: Lower Bavaria, Straubing-Bogen, Straubing, Freyung-Grafenau, Passau, Regen, Passau, Deggendorf, Kelheim, Rottal-Inn, Dingolfing-Landau, Landshut, Landshut
Neighbours: South Bohemian Region, Regen, Passau, Mühlviertel, Deggendorf, Plzeň Region
Suggested citation: Michal Páleník: EU regions - Freyung-Grafenau – DE225, IZ Bratislava, retrieved from: https://www.iz.sk/​en/projects/eu-regions/DE225
---
https://www.iz.sk/en/projects/eu-regions/DE225