Aschaffenburg – DE261
EU regions: Germany > Bavaria > Lower Franconia > Aschaffenburg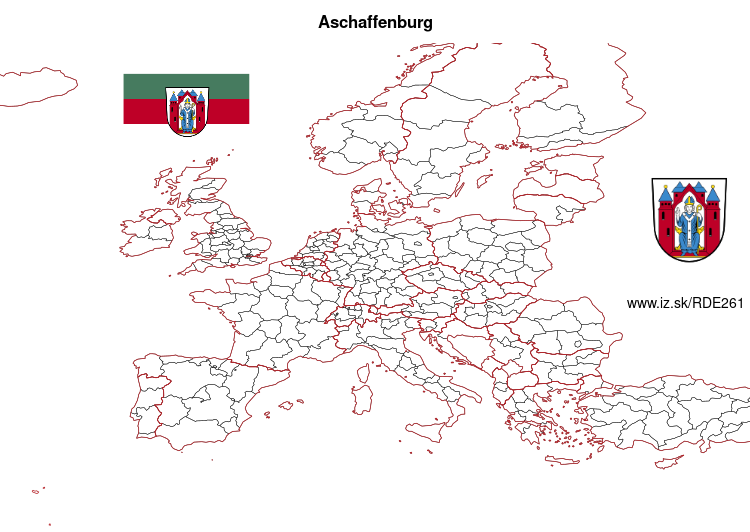 More on wikipedia wikidata Q3942 on OpenStreetMap Aschaffenburg slovensky: DE261
Demographics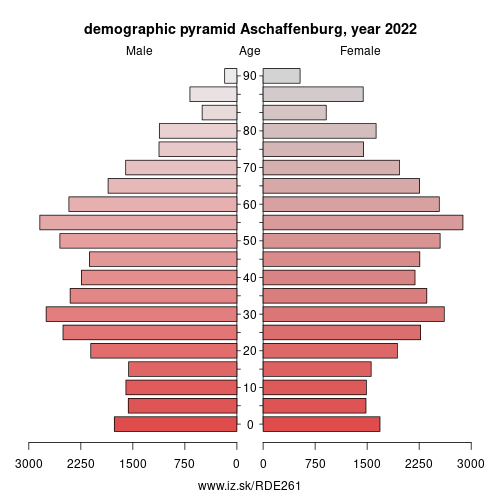 From Wikipedia: Aschaffenburg (German pronunciation: [aˈʃafn̩bʊɐ̯k] (listen)) is a town in northwest Bavaria, Germany. The town of Aschaffenburg is not considered part of the district of Aschaffenburg, but is the administrative seat.
Aschaffenburg belonged to the Archbishopric of Mainz for more than 800 years. The town is located at the westernmost border of Lower Franconia and separated from the central and eastern part of the Regierungsbezirk (administrative region) by the Spessart hills, whereas it opens towards the Rhine-Main plain in the west and north-west. Therefore, the inhabitants speak neither Bavarian nor East Franconian but rather a local version of Rhine Franconian.
Geography
Location
The town is located on both sides of the Main in the southwest part of Germany, 41 kilometers (25 mi) southeast of Frankfurt am Main. In the western part of the municipal territory, the smaller Aschaff flows into the Main. The region is also known as Bayerischer Untermain ("Bavarian Lower Main"). Aschaffenburg lies in the far northwest of the state of Bavaria, close to the border to the state of Hesse.
Climate
The climate is continental, typically with warm, dry summers and cold, damp winters.
Other: Lower Franconia, Aschaffenburg, Kitzingen, Miltenberg, Würzburg, Main-Spessart, Schweinfurt, Schweinfurt, Würzburg, Rhön-Grabfeld, Haßberge, Aschaffenburg, Bad Kissingen
Neighbours: Miltenberg, Aschaffenburg
Suggested citation: Michal Páleník: EU regions - Aschaffenburg – DE261, IZ Bratislava, retrieved from: https://www.iz.sk/​en/projects/eu-regions/DE261
---
https://www.iz.sk/en/projects/eu-regions/DE261