Schweinfurt - DE262
EU regions: Germany > Bavaria > Lower Franconia > Schweinfurt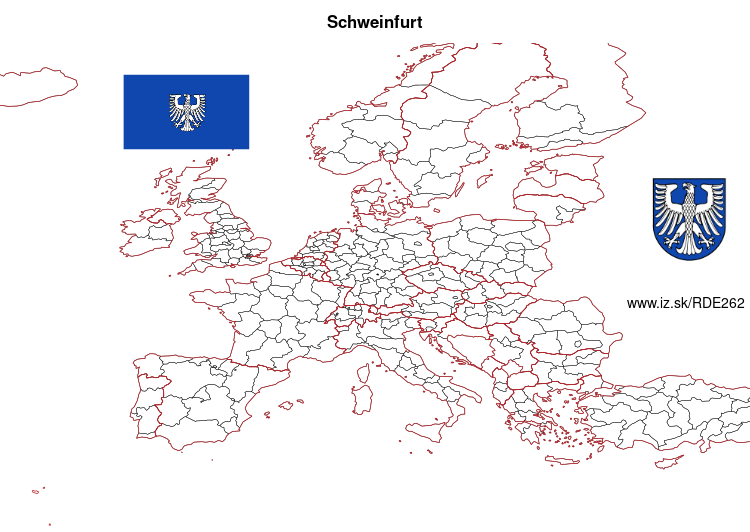 more on wikipedia * more on wikidata Q4126 * on OpenStreetMap * Schweinfurt slovensky: DE262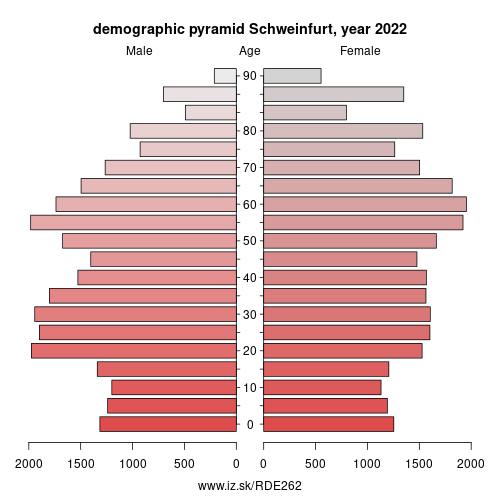 From wikipedia:

Schweinfurt

(

SHVYNE

-foort

, German:

[ˈʃvaɪnfʊɐ̯t]

(

listen

)

; lit.

 'swine ford'

) is a city in the Lower Franconia region of Bavaria in Germany on the right bank of the navigable Main River, which is spanned by several bridges here, 44 km northeast of Würzburg.
History
The city was first documented in the year 790, although as early as 740 a settlement called Villa Suinfurde was mentioned. In the 10th century Schweinfurt was the seat of a margraviate.
After the defeat of count Henry of Schweinfurt in 1002/1003, in the feud against King Henry II of Germany, his family lost its leading position in the town. In the first half of the 13th century Schweinfurt expanded to become a proper city with city wall, towers and city gates. At that time the Nikolaus hospital was founded, a mint was established and construction work on the Saint Johannis church began.
Around 1250 Schweinfurt was totally destroyed during a feud between the Count of Henneberg and the Prince-Bishop of Würzburg. In the following years it was reconstructed. A document from 1282 signed by Rudolf I of Habsburg states that Schweinfurt was a free city within the Holy Roman Empire. At least since then the coat of arms of Schweinfurt has been an imperial white eagle.
In 1309 the city was given to the Count of Henneberg, but in the 1360s the city regained its independence and joined the Swabian–Franconian Confederation. In 1397 King Wenzel entitled the town to utilize the River Main, and in 1436 –1437 Schweinfurt acquired the village of Oberndorf, as well as the Teutonic Order Fort on the Peterstirn (the site of a former castle, derived from the monastery name stella Petri) and a small piece of land – including the villages of Zell and Weipoltshausen.
other: Lower Franconia, Kitzingen, Schweinfurt, Aschaffenburg, Rhön-Grabfeld, Aschaffenburg, Schweinfurt, Würzburg, Main-Spessart, Bad Kissingen, Miltenberg, Haßberge, Würzburg district
neighbours: Schweinfurt
Suggested citation: Michal Páleník: EU regions - Schweinfurt - DE262, IZ Bratislava, retrieved from: https://www.iz.sk/en/projects/eu-regions/DE262
---
https://www.iz.sk/en/projects/eu-regions/DE262