Styria – AT22
EU regions: Austria > Südösterreich > Styria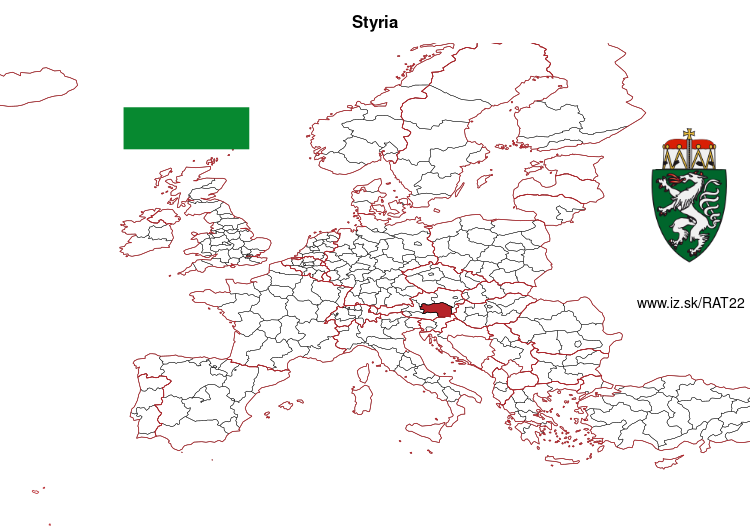 More on wikipedia wikidata Q41358 on OpenStreetMap Styria slovensky: AT22
Subregions: Graz-Umgebung District, Liezen, Östliche Obersteiermark, Oststeiermark, West- und Südsteiermark, Westliche Obersteiermark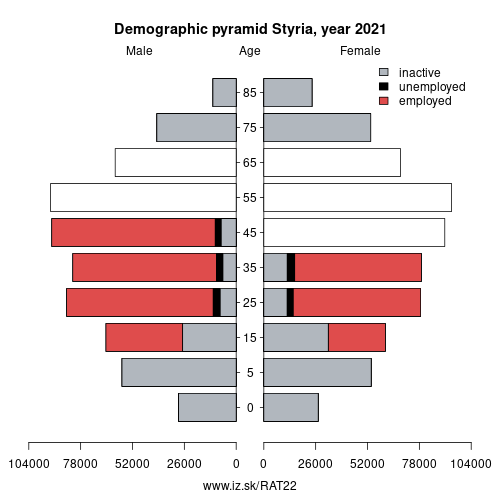 Unemployment
Demographics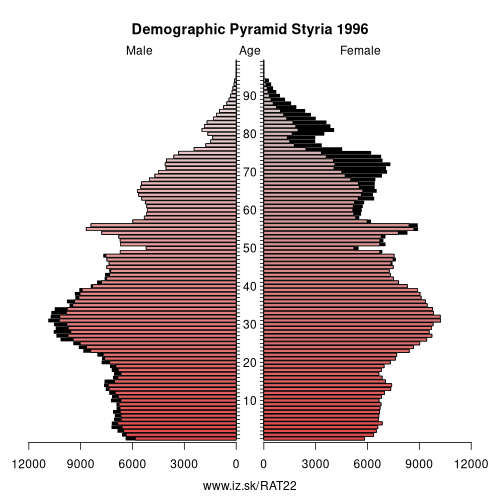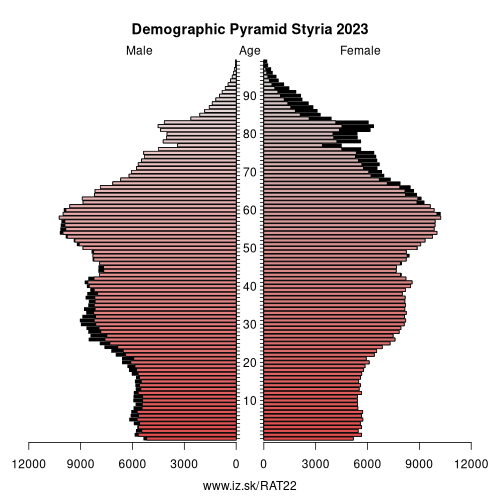 Employment by sectors, Styria
NACE r2
%
NACE r2
%
A
32.3
5 %
B-E
126.6
20 %
F
58.3
9 %
G-I
140.8
23 %
J
16
3 %
K
11.2
2 %
L
5.3
1 %
M_N
50.5
8 %
O-Q
153.4
25 %
R-U
24.1
4 %
TOTAL
618.6
100 %
Data for the period year 2022. Source of the data is Eurostat, table [lfst_r_lfe2en2].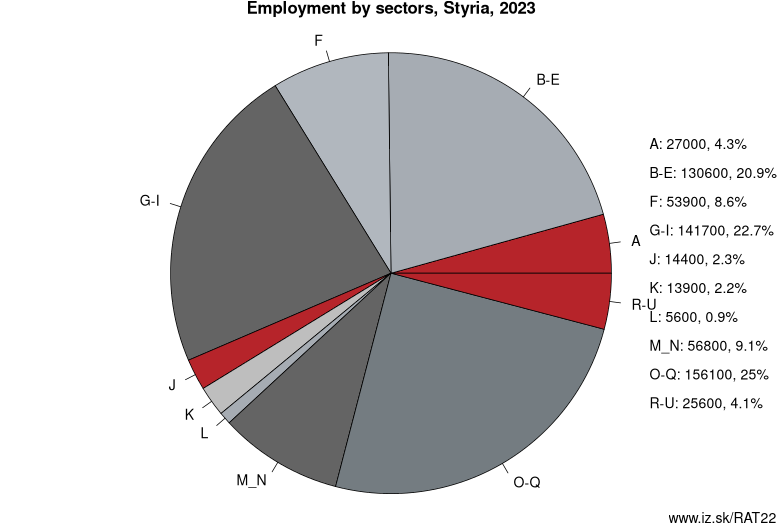 From Wikipedia: Styria (German: Steiermark [ˈʃtaɪɐˌmaʁk] (listen); Croatian and Slovene: Štajerska; Hungarian: Stájerország; Czech: Štýrsko; Slovak: Štajersko) is a state, or Bundesland, located in the southeast of Austria. In area it is the second largest (after Lower Austria) of the nine Austrian federated states, covering 16,401 km2 (6,332 sq mi). It borders Slovenia (Carinthia Statistical Region, Drava Statistical Region and Mura Statistical Region) and the Austrian states of Upper Austria, Lower Austria, Salzburg, Burgenland, and Carinthia. The capital city is Graz which had 276,526 inhabitants at the beginning of 2015.
Etymology
The March of Styria derived its name from the original seat of its ruling Otakar dynasty: Steyr, in today's Upper Austria. In German, the area is still called "Steiermark" while in English the Latin name "Styria" is used. The ancient link between Steyr and Styria is also apparent in their nearly identical coats of arms, a white Panther on a green background.
Geography
The term "Upper Styria" (German: Obersteiermark) used by an Austrian refers to the northern and northwestern parts of the federal-state (districts Liezen, Murau, Judenburg, Knittelfeld, Leoben, Bruck an der Mur, and Mürzzuschlag). The term "West Styria" (Weststeiermark) is used for the districts to the west of Graz (Voitsberg, Deutschlandsberg, western part of the district Leibnitz); the districts east of Graz (Weiz, Hartberg, Feldbach, Fürstenfeld, and Radkersburg) are referred to as "East Styria" (Oststeiermark). The western and eastern parts of the district Graz-Umgebung may or may not be considered parts of West and East Styria, respectively.
Other: Südösterreich, Styria, Carinthia
Neighbours: Burgenland, Carinthia, Salzburg, Lower Austria, Eastern Slovenia, Upper Austria
Subregions: Graz-Umgebung District, Liezen, Östliche Obersteiermark, Oststeiermark, West- und Südsteiermark, Westliche Obersteiermark
Suggested citation: Michal Páleník: EU regions - Styria – AT22, IZ Bratislava, retrieved from: https://www.iz.sk/​en/projects/eu-regions/AT22
---
https://www.iz.sk/en/projects/eu-regions/AT22