Würzburg – DE263
EU regions: Germany > Bavaria > Lower Franconia > Würzburg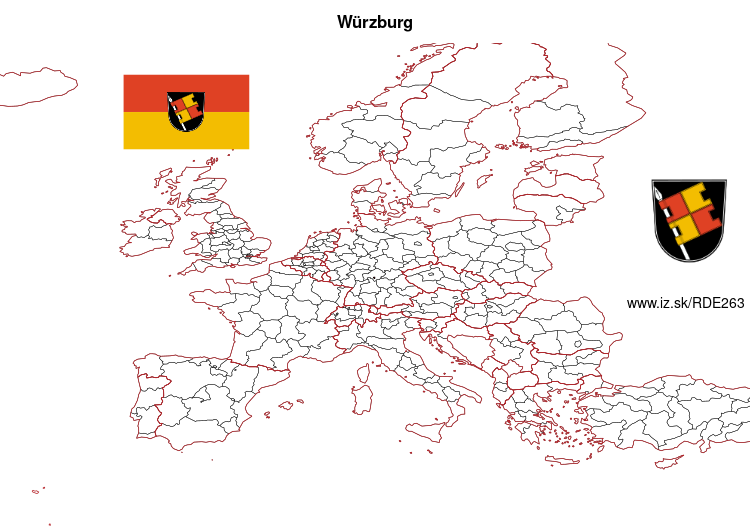 More on wikipedia wikidata Q2999 on OpenStreetMap Würzburg slovensky: DE263
Demographics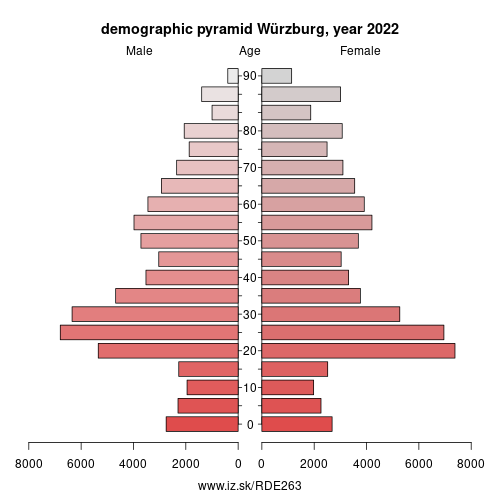 From Wikipedia: Würzburg (UK: , US: , German: [ˈvʏʁtsbʊʁk] (listen); Main-Franconian: Wörtzburch) is a city in the region of Franconia, northern Bavaria, Germany. Located on the Main River, it is the capital of the Regierungsbezirk of Lower Franconia. The regional dialect is East Franconian.
Würzburg lies about equidistant from Frankfurt am Main and Nuremberg (each about 120 kilometers or 75 miles away). Although the city of Würzburg is not part of the Landkreis Würzburg, (i.e., district of Würzburg), it is the seat of the district's administration. The city has a population of around 130,000 people.
History
Early and medieval history
A Bronze Age (Urnfield culture) refuge castle stood on the site of the present Fortress Marienberg. The former Celtic territory was settled by the Alamanni in the 4th or 5th century, and by the Franks in the 6th to 7th. Würzburg was the seat of a Merovingian duke from about 650. It was Christianized in 686 by Irish missionaries Kilian, Kolonat and Totnan.
Other: Lower Franconia, Aschaffenburg, Aschaffenburg, Kitzingen, Miltenberg, Würzburg, Main-Spessart, Schweinfurt, Würzburg, Rhön-Grabfeld, Haßberge, Schweinfurt, Bad Kissingen
Neighbours: Würzburg
Suggested citation: Michal Páleník: EU regions - Würzburg – DE263, IZ Bratislava, retrieved from: https://www.iz.sk/​en/projects/eu-regions/DE263
---
https://www.iz.sk/en/projects/eu-regions/DE263