Unterallgäu – DE27C
EU regions: Germany > Bavaria > Swabia > Unterallgäu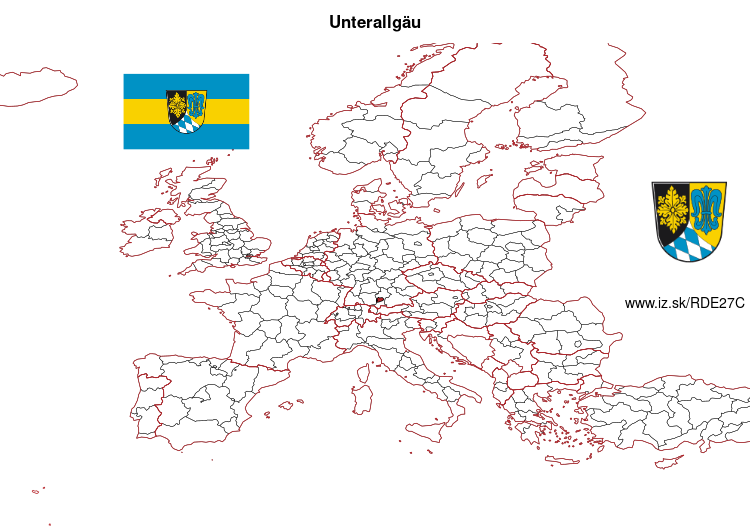 More on wikipedia wikidata Q10408 on OpenStreetMap Unterallgäu slovensky: DE27C
Demographics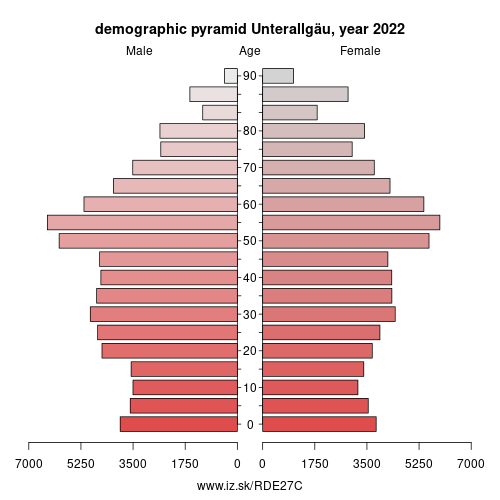 From Wikipedia: Unterallgäu is a Landkreis (district) in Swabia, Bavaria, Germany. Neighboring districts are (from the north clockwise) Neu-Ulm, Günzburg, Augsburg, Ostallgäu, Oberallgäu, and the districts Ravensburg und Biberach in Baden-Württemberg. The district-free city Memmingen in the west of the district is nearly surrounded by the district. The capital of the district is Mindelheim.
Geography
The district is located in the Allgäu, the northern foothills of the Alps. The river Iller forms part of the western boundary of the district.
History
The district was created July 1, 1972 by merging the previous districts Mindelheim and Memmingen. Mindelheim is the administrative seat of the new district.
Partnerships
The district started a partnership with the Polish Gostyn County in 2001.
Coat of arms
The rose in the left of the coat of arms is the symbol of the abbey of Ottobeuren, which ruled the southern part of the district.
Other: Swabia, Memmingen, Augsburg, Neu-Ulm, Lindau, Aichach-Friedberg, Dillingen, Unterallgäu, Donau-Ries, Ostallgäu, Oberallgäu, Kempten, Günzburg, Augsburg, Kaufbeuren
Neighbours: Oberallgäu, Ostallgäu, Landkreis Ravensburg, Neu-Ulm, Augsburg, Memmingen, Günzburg, Biberach district
Suggested citation: Michal Páleník: EU regions - Unterallgäu – DE27C, IZ Bratislava, retrieved from: https://www.iz.sk/​en/projects/eu-regions/DE27C
---
https://www.iz.sk/en/projects/eu-regions/DE27C