Ostallgäu – DE27B
EU regions: Germany > Bavaria > Swabia > Ostallgäu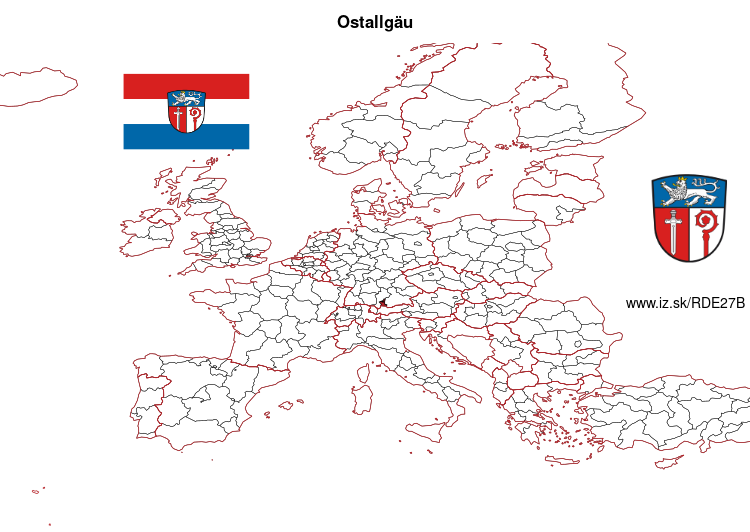 More on wikipedia wikidata Q10405 on OpenStreetMap Ostallgäu slovensky: DE27B
Demographics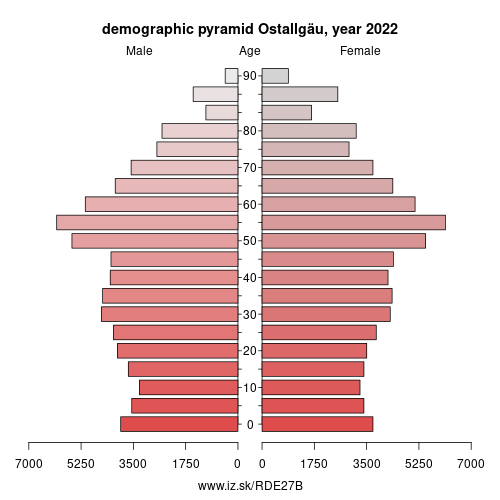 From Wikipedia: Ostallgäu is a Landkreis (district) in Swabia, Bavaria, Germany. It is bounded by (from the west and clockwise) the districts of Oberallgäu, Unterallgäu, Augsburg, Landsberg, Weilheim-Schongau and Garmisch-Partenkirchen, and by the Austrian state of Tyrol. The town of Kaufbeuren is enclosed by but does not belong to the district.
History
Before 1803 the region was split into several tiny states, most of them clerical states. When these states were dissolved in 1803, the Ostallgäu region became part of Bavaria. The kings of Bavaria soon evolved a special relationship with the region and built their famous castles of Hohenschwangau and Neuschwanstein there.
The district was established in 1972 by merging the former districts of Kaufbeuren, Marktoberdorf and Füssen.
Geography
"Ostallgäu" literally means "Eastern Allgäu". The term Allgäu is applied to the part of the Alps located in Swabia and their northern foothills.
The district extends from the crest of the Alps to hilly countryside in the north.
Other: Swabia, Memmingen, Augsburg, Neu-Ulm, Lindau, Aichach-Friedberg, Dillingen, Ostallgäu, Unterallgäu, Donau-Ries, Oberallgäu, Kempten, Günzburg, Augsburg, Kaufbeuren
Neighbours: Oberallgäu, Unterallgäu, Kaufbeuren, Landsberg am Lech, Garmisch-Partenkirchen, Reutte district, Augsburg, Weilheim-Schongau
Suggested citation: Michal Páleník: EU regions - Ostallgäu – DE27B, IZ Bratislava, retrieved from: https://www.iz.sk/​en/projects/eu-regions/DE27B
---
https://www.iz.sk/en/projects/eu-regions/DE27B