Donau-Ries – DE27D
EU regions: Germany > Bavaria > Swabia > Donau-Ries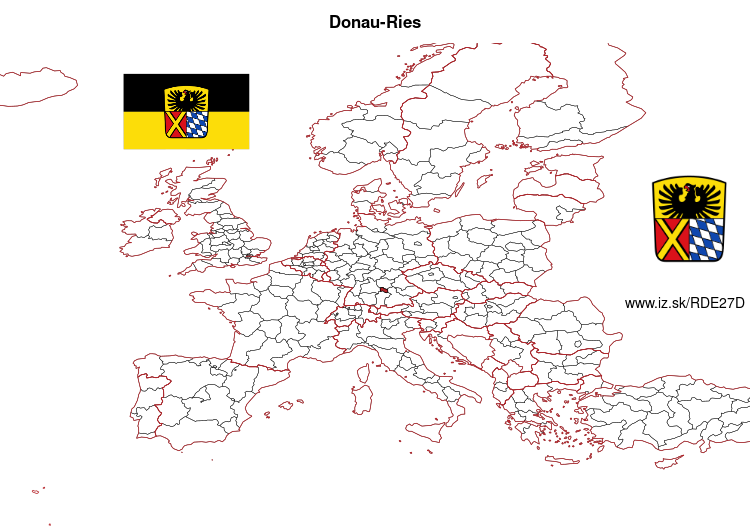 More on wikipedia wikidata Q10418 on OpenStreetMap Donau-Ries slovensky: DE27D
Demographics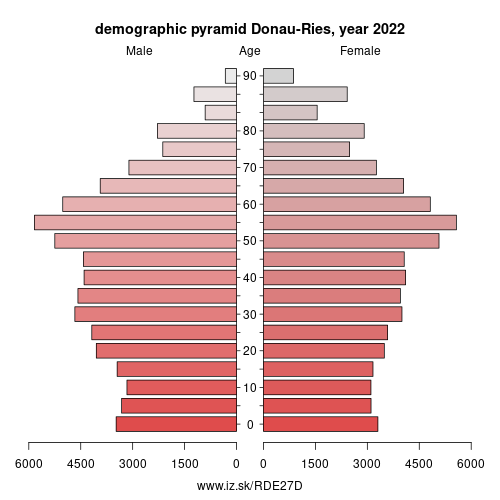 From Wikipedia: Donau-Ries (Danube-Ries) is a Landkreis (district) in Swabia, Bavaria, Germany. It is bounded by (from the north and clockwise) the districts of Ansbach, Weißenburg-Gunzenhausen, Eichstätt, Neuburg-Schrobenhausen, Aichach-Friedberg, Augsburg and Dillingen, and by the state of Baden-Württemberg (districts of Heidenheim and Ostalbkreis).
History
From Palaeolithic times on the Nördlinger Ries was a very attractive site for human settlement. The valley of the Danube was abounding with game, and many caves in the slopes of the crater provided shelter for Neanderthals and their successors.
The Ries was always densely populated. From 450 to 15 BC Celtic peoples built their settlements on the tops of the hills. Remains of Celtic circular forts and sanctuaries can be found all over the region. They were replaced about 90 AD by the Romans, who secured the region by building forts and the Limes (which was some km north of the present district).
The Romans were driven away about 250 AD by the Alamanni, which in turn were defeated by the Franks in 496. In the early years of the Holy Roman Empire new castles were erected, among them Oettingen, which was the centre of the county of Oettingen.
Other: Swabia, Lindau, Aichach-Friedberg, Memmingen, Unterallgäu, Ostallgäu, Donau-Ries, Augsburg, Dillingen, Neu-Ulm, Oberallgäu, Kempten, Günzburg, Augsburg, Kaufbeuren
Neighbours: Ostalbkreis, district Heidenheim, Dillingen, Aichach-Friedberg, Eichstätt, Weißenburg-Gunzenhausen, Neuburg-Schrobenhausen, Augsburg, Ansbach
Suggested citation: Michal Páleník: EU regions - Donau-Ries – DE27D, IZ Bratislava, retrieved from: https://www.iz.sk/​en/projects/eu-regions/DE27D
---
https://www.iz.sk/en/projects/eu-regions/DE27D