Hauts-de-Seine – FR105
EU regions: France > Île-de-France > Île-de-France > Hauts-de-Seine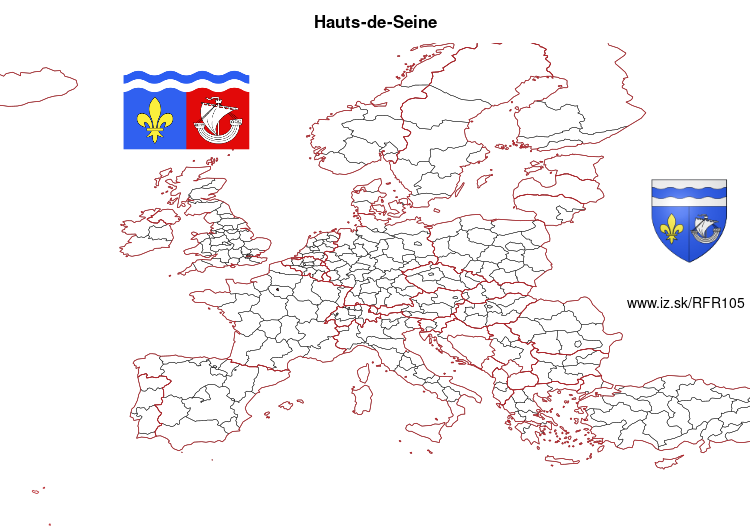 More on wikipedia wikidata Q12543 on OpenStreetMap Hauts-de-Seine slovensky: FR105
Demographics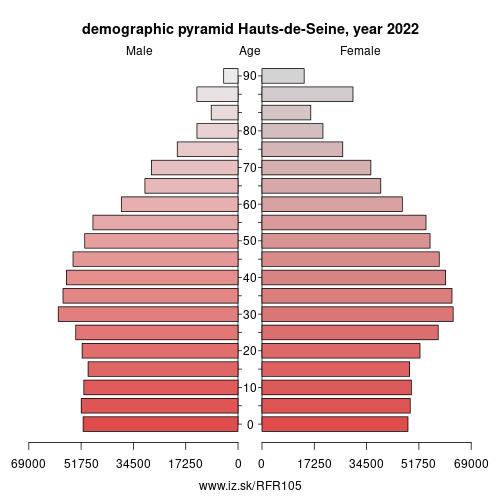 From Wikipedia: Hauts-de-Seine (French: [o d(ə) sɛn] (listen); literally "Seine Heights") is a department of France located in the region of Île-de-France. It is part of the Grand Paris as it covers the western inner suburbs of Paris. With a population of 1,603,268 (as of 2016) and a total area of 176 square kilometres (68 square miles), it is the second-most highly densely populated department of France. Hauts-de-Seine is best known for containing the modern office, theatre and shopping complex La Défense. Its inhabitants are called Altoséquanais.
Geography
Hauts-de-Seine and two other small départements, Seine-Saint-Denis and Val-de-Marne, form a ring around Paris, known as the Petite Couronne (literal translation: "little crown") and are together with the City of Paris included in the Greater Paris since 1 January 2016.
Administration
Hauts-de-Seine is made up of three departmental arrondissements and 36 communes:
Government
Hauts-de-Seine has a general council of which members are called general councillors.
The general council is the deliberative organ of the department. The general councilors are elected by the inhabitants of the departement for a 6-years term. The general council is ruled by a president.
Other: Île-de-France, Seine-Saint-Denis, Val-de-Marne, Paris, Seine-et-Marne, Hauts-de-Seine, Val-d'Oise, Yvelines, Essonne
Neighbours: Val-d'Oise, Essonne, Yvelines, Val-de-Marne, Seine-Saint-Denis, Paris
Suggested citation: Michal Páleník: EU regions - Hauts-de-Seine – FR105, IZ Bratislava, retrieved from: https://www.iz.sk/​en/projects/eu-regions/FR105
---
https://www.iz.sk/en/projects/eu-regions/FR105