Val-d'Oise – FR108
EU regions: France > Île-de-France > Île-de-France > Val-d'Oise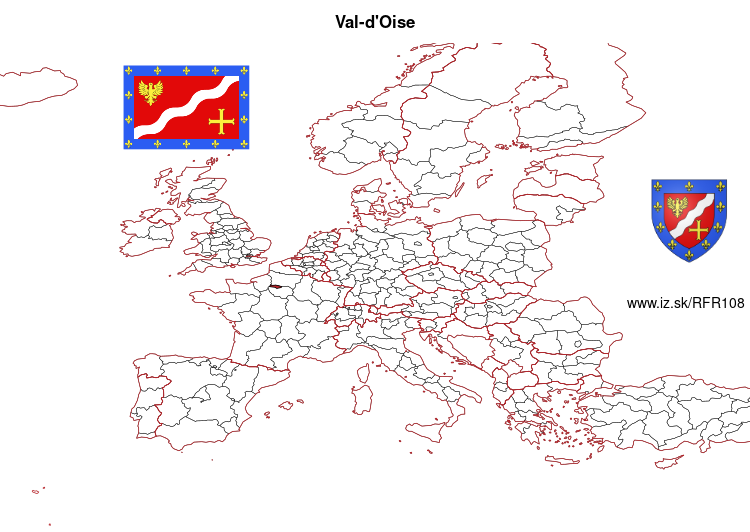 More on wikipedia wikidata Q12784 on OpenStreetMap Val-d'Oise slovensky: FR108
Demographics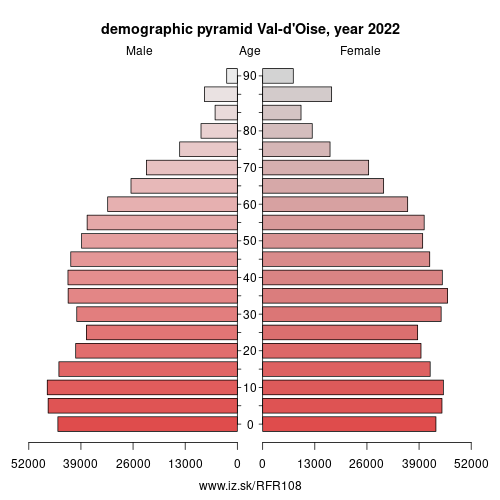 From Wikipedia: Val-d'Oise (French: [val dwaz] (listen)) is a French department, created in 1968 after the split of the Seine-et-Oise department and located in the Île-de-France region. In local slang, it is known as quatre-vingt quinze (i.e. "ninety-five") or neuf cinq (i.e. "nine five"), after the first two digits of the department's postcode. It gets its name from the Oise River, a major tributary of the Seine, which crosses the region after having started in Belgium and flowed through north-eastern France.
Charles de Gaulle Airport, France's main international airport is partially located in Roissy-en-France, a commune of Val d'Oise.
History
The original departments of France were established in 1790 when the French National Assembly split the country into 83 departments of roughly the same size and population. They were designed as sets of communes, and when better maps became available, certain revisions had to be made.
After defeat by the Prussians in 1871, certain territories were ceded to them and some rearrangements made. In 1955 and 1957, some departments changed their names.
Other: Île-de-France, Paris, Seine-et-Marne, Yvelines, Essonne, Hauts-de-Seine, Seine-Saint-Denis, Val-d'Oise, Val-de-Marne
Neighbours: Hauts-de-Seine, Yvelines, Seine-Saint-Denis, Seine-et-Marne, Oise, Eure
Suggested citation: Michal Páleník: EU regions - Val-d'Oise – FR108, IZ Bratislava, retrieved from: https://www.iz.sk/​en/projects/eu-regions/FR108
---
https://www.iz.sk/en/projects/eu-regions/FR108