Seine-et-Marne – FR102
EU regions: France > Île-de-France > Île-de-France > Seine-et-Marne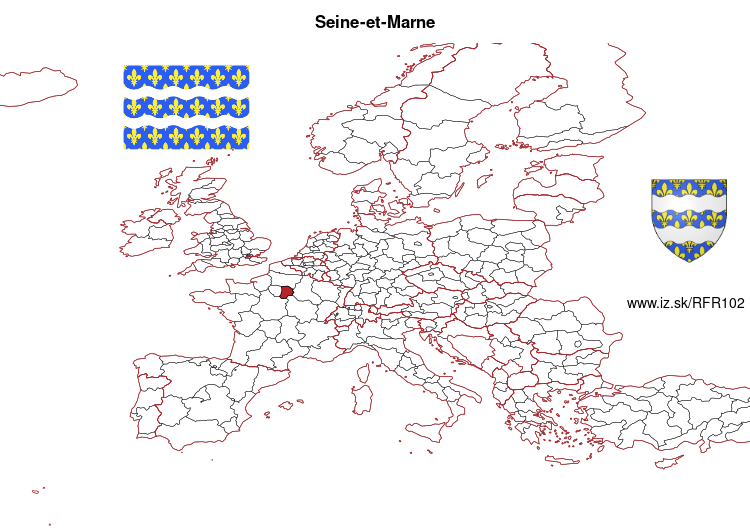 More on wikipedia wikidata Q12753 on OpenStreetMap Seine-et-Marne slovensky: FR102
Demographics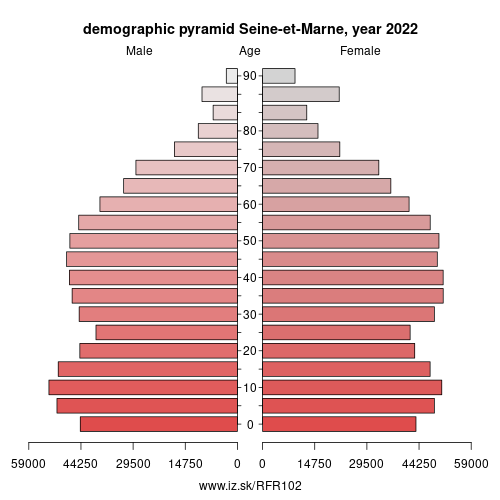 From Wikipedia: Seine-et-Marne (pronounced [sɛn e maʁn]) is a French department named after the Seine and Marne rivers and located in the Île-de-France region.
History
Seine-et-Marne is one of the original 83 departments created on 4 March 1790 during the French Revolution in application of the law of 22 December 1789. It had previously belonged to the former province of Île-de-France.
Economy
With 60 % of the region used as farmland, Seine-et-Marne is where most agricultural activity occurs within the Île-de-France. Cereals and sugar beet are the principal exports from Seine-et-Marne.
The other key industrial structures are the refinery at Grandpuits and the Snecma research plant. The two new towns are the centre of tourism for the department, mainly due to theme parks such as Disneyland Park and Walt Disney Studios Park at Disneyland Paris.
Climate
Seine-et-Marne has a temperate Atlantic climate. The average rainfall is based upon that of Fontainebleau, giving an average rainfall of 650 mm (25.6 in), which is higher than the average of Île-de-France (600 mm (23.6 in)). Average temperature in Melun during the 1953–2002 period was 3.2 °C (37.8 °F) for January and 18.6 °C (65.5 °F) for July.
Other: Île-de-France, Paris, Val-d'Oise, Seine-Saint-Denis, Val-de-Marne, Hauts-de-Seine, Yvelines, Seine-et-Marne, Essonne
Neighbours: Yonne, Marne, Aube, Essonne, Val-d'Oise, Aisne, Val-de-Marne, Seine-Saint-Denis, Oise, Loiret
Suggested citation: Michal Páleník: EU regions - Seine-et-Marne – FR102, IZ Bratislava, retrieved from: https://www.iz.sk/​en/projects/eu-regions/FR102
---
https://www.iz.sk/en/projects/eu-regions/FR102