Essonne - FR104
EU regions: France > Île-de-France > Île-de-France > Essonne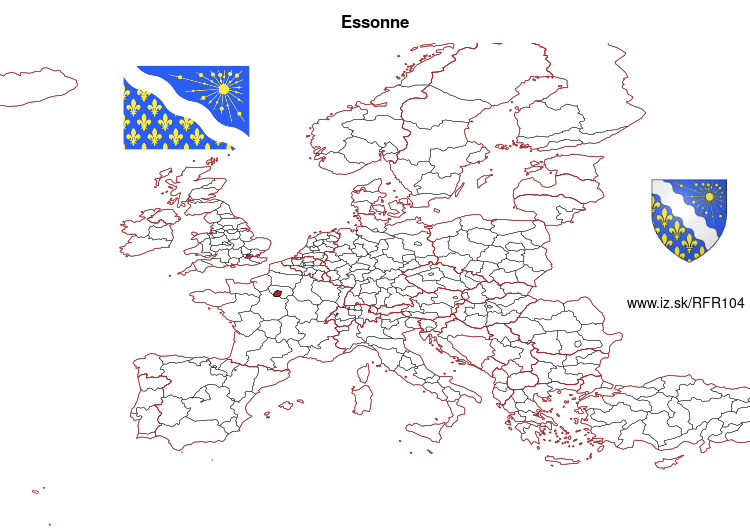 more on wikipedia * more on wikidata Q3368 * on OpenStreetMap * Essonne slovensky: FR104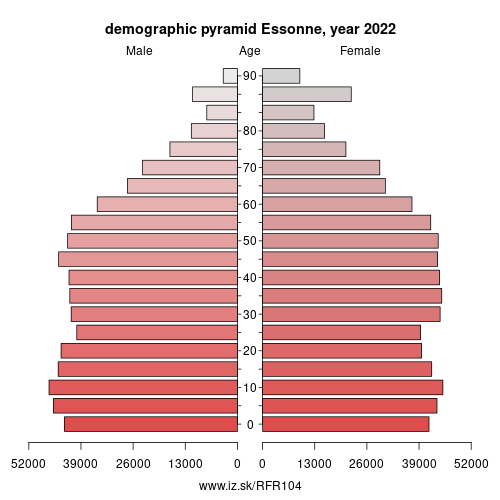 From wikipedia:
Essonne
(pronounced 
[ɛsɔn]
) is a French department in the region of Île-de-France. It is named after the Essonne River.
It was formed on 1 January 1968 when Seine-et-Oise was split into smaller departments.
History
The Essonne department was created on 1 January 1968, from the southern portion of the former department of Seine-et-Oise.
In June 1963 Carrefour S.A. opened the first hypermarket in the Paris region at Sainte-Geneviève-des-Bois (although the word "hypermarché" was first used only in 1966). Based on the ideas put forward by the American logistics pioneer Bernardo Trujillo, the centre offered on a single 2,500 m2 (26,909.78 sq ft) site a hitherto unknown combination of wide choice and low prices, supported by 400 car parking spaces.
In 1969, the communes of Châteaufort and Toussus-le-Noble were separated from Essonne and added to the department of Yvelines.
Geography
Essonne belongs to the region of Île-de-France.
It has borders with the departments of:
Hauts-de-Seine and Val-de-Marne to the north,
Seine-et-Marne to the east,
Loiret to the south,
Eure-et-Loir and Yvelines to the west.
All of northern Essonne department belongs to the Parisian agglomeration and is very urbanized. The south remains rural.
other: Île-de-France, Paris, Hauts-de-Seine, Val-d'Oise, Yvelines, Essonne, Val-de-Marne, Seine-Saint-Denis, Seine-et-Marne
neighbours: Eure-et-Loir, Hauts-de-Seine, Yvelines, Val-de-Marne, Seine-et-Marne, Loiret
Suggested citation: Michal Páleník: EU regions - Essonne - FR104, IZ Bratislava, retrieved from: https://www.iz.sk/en/projects/eu-regions/FR104
---
https://www.iz.sk/en/projects/eu-regions/FR104