Yvelines – FR103
EU regions: France > Île-de-France > Île-de-France > Yvelines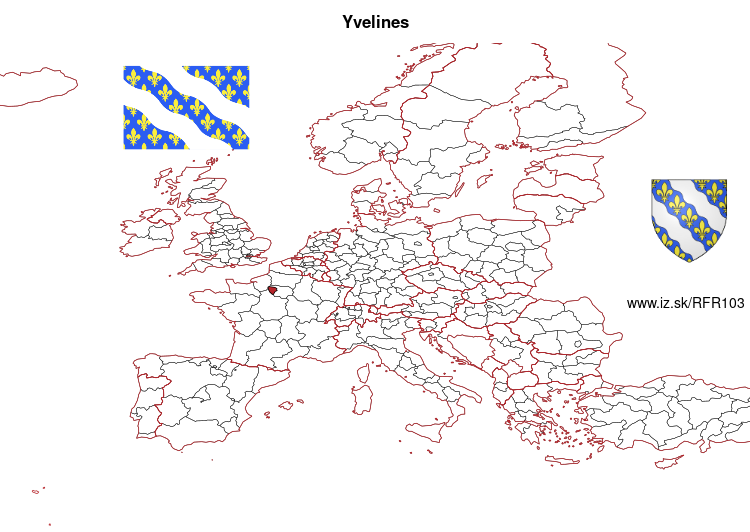 More on wikipedia wikidata Q12820 on OpenStreetMap Yvelines slovensky: FR103
Demographics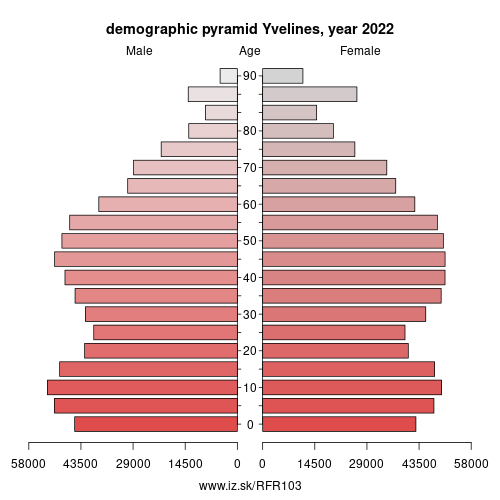 From Wikipedia: Yvelines (French pronunciation: ​[ivlin]) is a department in the region of Île-de-France, France. Located west of Hauts-de-Seine, it had a population of 1,431,808 as of 2016. Its main cities are Versailles, Saint-Germain-en-Laye, Mantes-la-Jolie and Rambouillet.
History
Yvelines was created from the western part of the former department of Seine-et-Oise on 1 January 1968 in accordance with a law passed on 10 January 1964 and a décret d'application (a decree specifying how a law should be enforced) from 26 February 1965. It inherited Seine-et-Oise's official number of 78.
It gained the communes of Châteaufort and Toussus-le-Noble from the adjacent department of Essonne in 1969.
The departmental capital, Versailles, which grew up around Louis XIV's château, was also the French capital for more than a century under the Ancien Régime and again between 1871 and 1879 during the early years of the Third Republic. Since then the château has continued to welcome the French Parliament when it is called upon to sit in a congressional sitting (with both houses sitting together) in order to enact constitutional changes or to listen to a formal declaration by the president.
Geography
Yvelines is bordered by the departments of Val-d'Oise on the north, Hauts-de-Seine on the east, Essonne on the southeast, Eure-et-Loir on the southwest, and Eure on the west.
The eastern part of the department, as well as its northern part along the Seine, is part of the Paris metropolitan area, but the rest of the department is rural, much of it covered by the Forest of Rambouillet (also known as the Forest of Yveline, from which the name of the department is derived).
Besides Versailles (the prefecture) and the subprefectures of Mantes-la-Jolie, Rambouillet, and Saint-Germain-en-Laye, important cities include Conflans-Sainte-Honorine, Poissy, Les Mureaux, Houilles, Plaisir, Sartrouville, Chatou, Le Chesnay, and the new agglomeration community of Saint-Quentin-en-Yvelines.
Other: Île-de-France, Paris, Seine-et-Marne, Val-d'Oise, Seine-Saint-Denis, Val-de-Marne, Hauts-de-Seine, Yvelines, Essonne
Neighbours: Val-d'Oise, Eure-et-Loir, Hauts-de-Seine, Essonne, Eure
Suggested citation: Michal Páleník: EU regions - Yvelines – FR103, IZ Bratislava, retrieved from: https://www.iz.sk/​en/projects/eu-regions/FR103
---
https://www.iz.sk/en/projects/eu-regions/FR103